This article is more than 1 year old
Linux kernel's Torvalds: 'I am truly sorry' for my 'unprofessional' rants, I need a break to get help
Project chief vows to learn to 'understand people's emotions' after F-bomb explosions
Linux kernel firebrand Linus Torvalds has apologized for his explosive rants, and vowed to take a break from the open-source project and seek help.
In a mailing list message on Sunday, Torvalds admitted his "flippant attacks in emails" to fellow Linux programmers and project contributors "have been both unprofessional and uncalled for. Especially at times when I made it personal ... I know now this was not OK and I am truly sorry."
"I need to change some of my behavior," he added, "and I want to apologize to the people that my personal behavior hurt and possibly drove away from kernel development entirely."
Torvalds, who created the Linux operating system kernel in 1991 and has overseen its development ever since, then promised to take a breather from the project – like the sabbatical he took to create Git – and do some self-reflection to, well, be nicer to everyone.
"I need to take a break to get help on how to behave differently and fix some issues in my tooling and workflow," he wrote.
"This is not some kind of 'I'm burnt out, I need to just go away' break. I'm not feeling like I don't want to continue maintaining Linux. Quite the reverse. I very much do want to continue to do this project that I've been working on for almost three decades."
Pressure
The Linux kernel sits at the heart of hundreds of millions of Android devices, as well as countless internet and enterprise servers, supercomputers, Chromebooks and other PCs, routers and networking equipment, Internet-of-Things gizmos and other embedded electronics, and so on.
Torvalds still manages kernel releases, all crafted from source code submitted by more than 10,000 developers from more than 1,200 organizations worldwide and filtered through a team of maintainers who are responsible for various components that make up the project – from device drivers to memory management.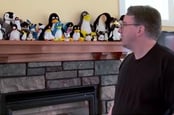 Having offended everyone else in the world, Linus Torvalds calls own lawyers a 'nasty festering disease'
READ MORE
The Finnish-born American, perhaps feeling the pressure as the single kernel chieftain responsible for all that, is an absolute stickler for quality and reliability, making his feelings bluntly known if submitted patches are, in his view, substandard.
"Mauro, SHUT THE F**K UP!" Torvalds, for instance, raged one time at Red Hat engineer Mauro Carvalho Chehab after a patch broke part of the kernel.
"WHAT THE F*CK IS GOING ON?" the project chief screamed at Intel's "COMPLETE AND UTTER GARBAGE" kernel security fixes for the Spectre variant 2 processor vulnerabilities.
And "just half-arsed shit-for-brains" is how he described the comments in the kernel's networking code. There are many more examples of Torvalds detonating – some he has apologized for, kinda, in the past.
And while it is essential that Torvalds has a near-zero tolerance for bad code, in order to keep the widely used kernel as stable and performant as possible, more than a few folks have questioned whether or not flipping his lid and launching, in their opinion, abusive tirades is the best way to encourage programmers to join the effort and foster good engineering.
And now
This weekend's apology came after Torvalds was implored privately and publicly to rethink his irascible approach to kernel maintenance and development. It also came on the back of him moving the Linux Kernel Maintainers' Summit from Canada to Scotland to suit his vacation plans, and the reaction to that.
He had hoped to skip the conference this year altogether, and that went down like a lead balloon with some fellow developers, leading him to have a moment of greater self-awareness.
Realizing he had, to draw from his parlance, fucked up, Torvalds wrote:
That whole [kernel summit] situation then started a whole different kind of discussion. And kind of incidentally to that one, the second part was that I realized that I had completely mis-read some of the people involved.
This is where the "look yourself in the mirror" moment comes in.
So here we are, me finally on the one hand realizing that it wasn't actually funny or a good sign that I was hoping to just skip the yearly kernel summit entirely, and on the other hand realizing that I really had been ignoring some fairly deep-seated feelings in the community.
This is my reality. I am not an emotionally empathetic kind of person and that probably doesn't come as a big surprise to anybody. Least of all me. The fact that I then misread people and don't realize (for years) how badly I've judged a situation and contributed to an unprofessional environment is not good.
This week people in our community confronted me about my lifetime of not understanding emotions. My flippant attacks in emails have been both unprofessional and uncalled for. Especially at times when I made it personal. In my quest for a better patch, this made sense to me. I know now this was not OK and I am truly sorry.
The above is basically a long-winded way to get to the somewhat painful personal admission that hey, I need to change some of my behavior, and I want to apologize to the people that my personal behavior hurt and possibly drove away from kernel development entirely.
I am going to take time off and get some assistance on how to understand people's emotions and respond appropriately.
Reading between the lines, it possibly sounds as though at least some maintainers hoped to use the summit to discuss his temper, and how, in their minds, it was driving talented programmers away from the vital project – and his attempt to dodge the event was the final straw.
You can read Torvalds' email in full, here, which also announces the availability of the Linux 4.19-rc4 release candidate.
As well as his apology, and promise to gain more empathy for his fellow coders, Torvalds also introduced an overhauled code of conduct for people participating in his open-source project. The previous rules were short, and recommended people simply "be excellent to each other." The new one is much more detailed, and is based on the Contributor Covenant.
"From this point forward, we should abide by these rules in order to help make the kernel community a welcoming environment to participate in," Torvalds wrote.
Sunday's email has stunned people on both sides of the fence, those who defend and abhor Torvalds' management approach.
"I'll believe it when I see some actual change," said Linux kernel developer Matthew Garrett, who is a long-time critic of Torvalds' style, adding the apology "is a long overdue step in the right direction." ®