Who, Me? Welcome once more to the world of Who, Me? – El Reg's weekly trip down memory lane with our dear readers.
This week, our confessional column is taking a trip back to a college in the late '80s, with "Bryan".
While Bryan was at college, he was simulating a communication channel for binary data, which he described thus: "Take a data packet, encode the data, simulate noise to add to the data, decode the data, and see if the packet made it through."
But this test required a fair amount of computing power – especially for the decade – and so Bryan was using the college's VAX cluster of systems.
"I would assign the same code to different systems, each with different noise levels, and collect the data in the morning," Bryan said. "No one was using the computers late at night, so no one cared."
The aim was to create a graph and prove that encoding helped, Bryan said – for which he completed his computer science and electrical engineering design credits.
As it happened, each department had a different naming convention for their systems, which made it easy to guess who they belonged to.
The math department chose famous mathematicians, mechanical engineering based theirs on Snoopy characters ("Lucy Linus" was one, Bryan recalled), while electrical engineering "was rather drab", like EE-Vax-02.
However, Bryan's process hit a bit of a bump in the road after he assigned a process to a computer named Ada.
"[As Ada Lovelace was] a famous mathematician, I assumed it was part of the math department," Bryan said.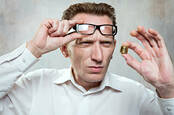 A boss pinching pennies may have cost his firm many, many pounds
READ MORE
But the next morning, Bryan was locked out of his account, faced with the message: "Go to office <insert number> and see system admin <insert name>."
Dashing down to the office in question, Bryan was met by "a very angry systems admin". Why the early morning rage? He wasn't getting paid that week – no one was.
"It seems that Ada was part of the university management and handled payroll processing," said Bryan. "My script took so much CPU power that payroll wasn't finished in time."
Bryan, who wisely chose not to voice his opinion that it was their fault for not making payroll a higher priority, was banned from using Ada again – but said the sysadmin took pity on him.
"He hooked me up with a bunch of systems from the nursing department that never got used at night," Bryan said, adding that, luckily for him, none of his teachers twigged that he was the reason they weren't getting paid that week.
Did you ever stand between a sysadmin and their paycheque? Or have you missed out on cash you sorely deserved for a job? Tell El Reg and we might use your story next week. ®