Investor advice biz Citi Research has recommended that Amazon breaks itself in half to avoid antitrust accusations, according to reports.
"There has been greater noise of late regarding the desire to investigate and potentially regulate the company," Citi analyst Mark May said in a note to clients issued on Monday and reported by US outlet CNBC. "By separating the retail and Amazon Web Services (AWS) cloud businesses, Amazon could minimize or avoid the risk of increased regulatory pressure."
Though May does not suggest that Amazon has violated any antitrust (competition or anti-cartel) laws, he believes US president Donald Trump may go after Amazon using American competition law. Trump and Bezos don't exactly see eye to eye on a lot of issues and the Seattle electronic souk (and Washington Post) owner has been castigated by the president repeatedly.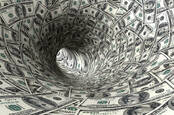 Amazon probes alleged bribery of staffers for data on e-tail platform
READ MORE
Controversially, May is reported as saying that Amazon ought to break itself in half, separating AWS from the online shopping business. He believes AWS would be worth around $600bn, with the retail part of the company filling in the remaining $400bn of its current $1tn valuation.
In a list of seven items justifying a breakup, May included the points "to improve shareholder selection," "to achieve better valuation as a pure play" and "to provide a more attractive M&A currency for potential acquisitions", suggesting he sees more financial returns for the stock market by knocking down the Amazon megalith and breaking it up into its component parts.
Amazon managed to miss its earnings target in its latest set of financial results, with profits of $197m on revenues of $38bn. Earnings per share were $0.41, "well short of analyst estimates at $1.42", as we reported back in July when the results came out.
At the beginning of 2018 the same analyst issued a note advising clients to buy shares in Amazon because its online ad business was undervalued by the stock market. ®
Similar topics