The first passenger Boeing 777 built is being flown to a museum today, having spent the last quarter of a century ferrying bods from A to B.
Boeing is still building the 777 long-haul airliner to this day, albeit with more than a few tweaks to the original 1990s design.
Techies, particularly those in the APAC region, will be more than familiar with Boeing's products thanks to the wide spread of companies, locations and conferences baked into the industry. With more than 1,500 777s built, odds are a long-haul flight is being operated by one of them.
Registered in China as B-HNL, the very first production Boeing 777 rolled off the line in 1994, receiving the maker's number WA001 and entering the US register as N7771. For Boeing it marked a number of new technological innovations; it was their first fly-by-wire aircraft, and the first to be designed entirely by computer.
It spent three years as a flying testbed before being bought by Cathay Pacific, at which point it was completely overhauled, fitted with new Rolls-Royce engines in place of its original Pratt & Whitney turbofans, re-registered and delivered for passenger flights in 2000.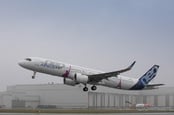 Airbus UK infosec gros fromage: Yep, we work with arch-rivals Boeing
READ MORE
Since its delivery from Boeing, according to Cathay Pacific, B-HNL racked up 20,519 flights totalling 49,687 flying hours with the airline. A potted history of the aircraft states that it flew 1,729 hours with Boeing in its testbed days, giving a grand total of 51,416 hours gracing the skies. The airline was one of half a dozen closely consulted by Boeing during the initial design phases of the 777's inception.
Around seven or eight flying hours will be added to B-HNL's total thanks to today's ferry flight, which started in China and, via a 55-minute hop to Hong Kong for refuelling, will end in the US, at the Pima Air and Space Museum in Tucson, Arizona.
The 777 was Boeing's answer to Airbus's A300 jets, which were the first long-ranged, wide bodied twin-engined aircraft with large passenger capacities. Today the 777 competes directly with the European manufacturer's A330 and A350 aircraft, in its 777-ER, LR and X variants. ®