This article is more than 1 year old
Nutanix shares briefly wobble over Google server appliance fears
What if someone else owns someone else's computer?
Despite Google's claims that it isn't building a private cloud product, its partner Nutanix's shares took a 10 per cent dive when word got out.
A hastily denied story published on Monday by an American blog called The Information claimed that Google is "building custom-designed computers – which combine server, storage and networking functions – for a handful of large customers to run in private data centers, according to two people with knowledge of the project".
In response, Google said in a statement to tech journos: "We can confirm that we are not building customized appliances for external sale." This did not stop panicked investors dumping shares in Nutanix, whose price fell from Friday's close at $52.50 to a low of $46.43 on Monday, though it was rebounding sharply at the time of writing to $50.08 and climbing.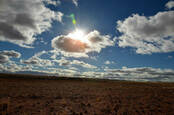 Nutanix inks deal to swallow desktop apps-as-a-service cloud flinger
READ MORE
Last year Nutanix threw its lot in with Google Cloud, boasting of its hybrid cloud data control plane products and its Enterprise Cloud OS, with El Reg opining at the time that Nutanix "wants its software to be the main control plane interface between the virtualized applications you want to run in on-premises or public cloud-based servers".
If Google went it alone with hybrid cloud or even private on a similar basis, this would do a serious number on the year-old Nutanix partnership. The smaller firm is hoping to keep its spot as Google's on-prem and hybrid cloud partner, and rumours that Google is building its own appliances won't do much for exec or investor confidence.
Some analysts, however, appear quietly confident that Google isn't planning to eat Nutanix's breakfast, lunch and dinner just yet.
"While the potential offering could be viewed as competitive to Nutanix (if it is sold commercially), we believe most enterprises will choose to leverage a multi-cloud infrastructure and would not want to be locked into a single cloud provider," wrote Piper Jaffray analyst Andrew Nowinski. ®