This article is more than 1 year old
Trump pulls trigger in US-China tit-for-tat tariff tiff: 10% slapped on $200bn of imported kit
Yet it seems Tim Cook's kit is the Apple of the president's eye
US President Donald Trump has slapped 10 per cent import tariffs on US$200bn of gear arriving in America from China.
This is on top of a package of tariffs on $50bn of incoming Chinese-made parts used for "aerospace, information and communication technology, and machinery," that was imposed earlier this year. China, unsurprisingly, returned fire today with its own tariffs on $60bn of American goods coming into the Middle Kingdom.
Earlier this month, Trump threatened to pop extra charges on Chinese-built equipment and components coming into the US, and on Tuesday this week carried out that threat. As of September 24, the 10 per cent tariffs will apply on a raft of products amounting to $200bn. Next January, the rate will rise to 25 per cent.
The US Trade Representative has published the full list of goods covered by the tariffs, from "frozen retail cuts of meat of swine" and live eels through to "monopods, bipods, tripods and similar articles of aluminum," here (PDF).
American technology vendors such as Cisco have previously warned that the tariffs will force them to push up their prices, hitting IT buyers in the wallet. That's because components from computer fans to silicon wafers have been swept up along with "edible offal of bovine animals, fresh or chilled" in the affected product list. Tech giants ordered those electronic parts and semiconductor materials to assemble their goods.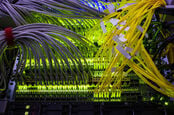 America-China tariff tiff could flip the switch on Cisco price hikes
READ MORE
One technology vendor won't be too upset, however. Apple's China-built Watch and Airpod gizmos were due to be included in the penalized list, but were excluded in the end. Presumably the Cupertino idiot-tax operation has some excellent lobbyists in Washington DC.
The White House's announcement of the levies on Tuesday promised that if China retaliated, charges will be slapped on a further $267bn of Chinese goods. China, however, is unbowed: its retaliatory tariffs of five per cent to 10 per cent on $60bn of incoming American gear will come into force September 24 unless the Trump administration relents and halts its protectionist measures.
Beijing said it deeply regrets the need to act, with its Commerce Ministry adding that its actions "safeguard its legitimate rights and interests and the global free trade order."
The Trump administration's trade war may not end with China, judging by this presidential tweet:
Tariffs have put the U.S. in a very strong bargaining position, with Billions of Dollars, and Jobs, flowing into our Country - and yet cost increases have thus far been almost unnoticeable. If countries will not make fair deals with us, they will be "Tariffed!"

— Donald J. Trump (@realDonaldTrump) September 17, 2018
Bloomberg reported that a truce is still feasible: "The Chinese government is still willing to negotiate, the country's finance ministry said on Tuesday. Kevin Hassett, the chairman of Trump's Council of Economic Advisers, said he expected that US-China talks can still take place."
The US-China trade talks are scheduled for next week. ®