This article is more than 1 year old
IT bods, beware! AWS claims Storage Gateway appliance doesn't need you to manage it
And I heard a great voice saying: Behold, the hybrid tabernacle is with men
AWS has wheeled out a hardware appliance for feeding hybrid clouds to non-techies – a pre-loaded Dell EMC box for its Storage Gateway.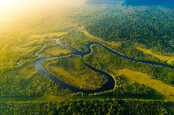 In the cloud storage gateway game? Prepare to be Amazoned
READ MORE
"This means that you can now make use of Storage Gateway in situations where you do not have a virtualized environment, server-class hardware or IT staff with the specialized skills that are needed to manage them," said AWS's chief evangelist Jeff Barr in a blog post.
In simple terms, AWS's Storage Gateway lets businesses shift files from on-prem storage to Amazon's white 'n' fluffy stuff, with the hardware appliance rollout explicitly pitching it at the non-IT-skilled business user. Just follow our simple instructions, they said, and you're on the cloud.
AWS currently markets the Storage Gateway as being good for everything from routine backups to disaster recovery and cloud-based data crunching. Rumours have swirled for around five years that Amazon was pondering a hardware version of the original software-based gateway, which took images of files and beamed them up to S3.
The Storage Gateway appliance has a file interface that allows it to talk to S3. It also supports cloud storage volumes (presented as iSCSI volumes) and includes support for a "cloud-based virtual tape library".
The box itself is a lightly tweaked Dell EMC Poweredge R640 rack server running AWS's own software. In hardware terms it boasts a pair of Xeon CPUs, 128GB of memory and 6TBs of solid-state storage. It's yours for around $12,000 in its off-the-shelf configuration.
AWS has been conscious for a while that its hybrid cloud products are less than stellar. Last year it updated its gateway's Microsoft Hyper-V file support, ahead of the rollout of Redmond's competing Azure Stack. ®