This article is more than 1 year old
Michael Dell serves up stump speech to settle sceptical investors
We've got a $90bn run rate, never mind the debt
Michael Dell has touted his behemoth's performance in a pitch supporting the company's return to the stock exchange.
The Dell Technologies chairman and CEO cranked up the hype machine in an analyst presentation Tuesday morning, in what outlets like Bloomberg described as an attempt to shore up support for the float among "skeptical" investors.
The company's $21.7bn re-float plan puts an offer price of $109 in cash and Class C stock (the latter priced at $79.77).
Dell the man told the analyst briefing (infographic-tastic slides are here) that in the five years since the company was taken private, "we built Dell Technologies to capitalise" on what he called an enormous "technology-led investment cycle".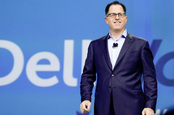 Going public again would swell profits by two-thirds, claims Dell
READ MORE
The CEO name-checked a predictable list of technologies that he said are going to drive that investment – artificial intelligence, 5G, software-defined "hyper-agile" multi-cloud architectures, microservices, and the like.
However, on the financial side of the pitch, it has to be admitted that the chief exec, famously described by The Reg's Chris Mellor as an "ordinary guy", has a point: the Dell Technologies he's bringing back to the stock market, he told analysts, holds a bunch of "number one" spots.
By 2021, he said, there'll be "more than 250 million server microprocessor cores supporting over a billion-and-a-half containers", there'll be an explosion in the number of devices, and "in seven years we'll zoom ahead to 160 zettabytes and beyond".
Bullish numbers
So here are Dell Tech's numbers: nearly $87bn in revenue in the last 12 months. To put that into context, HP Inc has turned over $57bn, Cisco some $47bn, Lenovo at $47bn and HPE at $31bn.
"We're number one in the largest sectors, from the $76bn x86 sector (that is, servers – El Reg), the $26bn storage sector, to the $189bn client sector". So yeah, Dell is bullish about Dell Technologies.
With all those upsides, why would investors who aren't called Michael Dell be wary of the flotation?
One reason is the deal's structure. As we explained in August, the proposal is "a share swap that will see VMware investors acquire holdings in Dell Technologies", which has caused internal friction: Goldman Sachs (advisor for the deal) and VMWare's advisors Lazard have clashed over the $109 per share valuation.
There were also reports at the time that the deal wasn't popular among hedge funds.
The other reason is debt.
When its acquisition of EMC closed in 2016, the company was carrying nearly $50bn in debt – and that much of a debt overhead can arguably crimp a company's ability to respond quickly to technology or market moves.
It was left to CFO Tom Sweet to discuss debt, well into the fourth hour of the analyst session when a certain lassitude can take hold of people sitting in the dark for a morning.
Strong cash flow, he said, has let the company pay the debt down to $36.5bn, and "we're right where we need to be in terms of maturity," he added, with another $800m due and $4.8bn to be paid off next year.
Sweet also mentioned another gap in the strategy that could be a risk for Dell Technologies in the future: the company still has a relatively low proportion of subscription revenue.
"Customers are coming to us and saying 'I want to consume in a different fashion', such as on-demand models," he said.
Deferred revenue has grown by around $2bn in the last two years to $22bn for the 2018 financial year, Sweet said. That includes "PC-as-a-service" offerings, flexible consumption models, utility models, and the ability to "attach and sell extended software / services", storage-as-a-service – "all of these are helping us build deferred revenue".
However, "we need to have a much larger deferred revenue balance," Sweet told analysts. "We need to build that predictability as we move forward."
Dell isn't alone here, HPE admitted in June that just two per cent of its global turnover was transacted as a serivce.
Sweet said he believed the go-public offer was "extraordinarily fair", but acknowledged that tracking stock-holders could vote the proposal down.
If that happens, Dell will simply return to the status quo. ®