'Men only' job ad posts land Facebook in boiling hot water with ACLU
Surprise, surprise: Investigation finds Uber placed a load of bloke-only ads
Facebook is under fire for allowing companies to allegedly unfairly post on the social network job ads specifically for men – and not women.
The American Civil Liberties Union and Outten & Golden LLP, an employment law firm, on Tuesday dragged the tech giant and ten employers before the US Equal Employment Opportunity Commission, a federal agency that handles claims of workplace discrimination and other civil rights abuses.
Specifically, the union and law firm filed charges to the commission against Facebook et al on behalf of three women and the Communications Workers of America, alleging gender discrimination.
"Sex-segregated job listings are roaring back to life," Galen Sherwin, a senior staff attorney at the Women's Rights Project of the ACLU, said in a statement.
"Enabled by social media platforms like Facebook, advertisers are increasingly using users' personal data to direct their ads – including for jobs – to individual users based on characteristics such as sex, race, and age, thus excluding users outside of the selected groups from learning about these opportunities," said Galen Sherwin, a senior staff attorney at the Women's Rights Project of the ACLU.
The ten employers hauled before the commission include a North Carolina police department, construction companies, and a sports equipment manufacturer.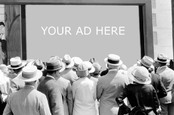 Facebook flat-out 'lies' about how many people can see its ads – lawsuit
READ MORE
They all advertised jobs in "well-paid, blue-collar fields", such as roles for mechanics, technicians, and truck drivers – all of which are traditionally male dominated – to just young men on the social network, according to the ACLU. As in, when posting the job ads, the employers ticked a box to only display the positions to young fellas.
That meant female and non-binary Facebook users, and older men, were not exposed to these adverts on their newsfeeds, and thus denied an opportunity to apply.
However, Facebook's advertising practices also go beyond sexual discrimination. The ACLU claimed that Zuck & Co also offers advertisers to use a tool dubbed "Lookalike Targeting". This allows companies to seek people that are of a similar background to current employees. The tool might not seem too harmful when considering things like university degrees and qualifications, but it quickly becomes problematic, say, if the workforce is made up of mostly white people.
"Our data profiles should not determine what information is available to us when it comes to economic opportunities," Sherwin concluded.
"Facebook must change its platform to prevent advertisers from exploiting user data for discriminatory purposes, and ensure once and for all that all users, regardless of gender, race, age, or other protected status, are given a fair shake. Nothing less is required if we are to ensure that progress toward gender equality is carried forward into the digital age."
An investigation by ProPublica into Facebook's ad practices named Uber as one tech company that almost exclusively targeted men in 87 out of 91 Facebook job advertisements.
"There is no place for discrimination on Facebook; it's strictly prohibited in our policies," said Facebook spokesman Joe Osborne. "We look forward to defending our practices once we have an opportunity to review the complaint." ®