Remember when Apple's FaceTime stopped working years ago? Yeah, that was deliberate
Class-action lawsuit over iOS 6 snafu allowed to move ahead
---
Apple is accused of deliberately shafting people who didn't upgrade their iPhones and iOS, in a class action lawsuit over its FaceTime video-conferencing software.
This week, US district judge Lucy Koh allowed [PDF] a class-action lawsuit against the tech giant to move forward after she rejected Apple's argument that it can do whatever it wants with people's iPhones because users agree to its terms-of-service agreement.
At the heart of the lawsuit, filed in California, is a decision by Apple to kill off FaceTime for those who were not using the latest iPhone and the latest operating system software. In April 2014, the Cupertino idiot-tax operation let a digital certificate expire prematurely which broke the video-conferencing service for anyone using version 6 or lower of iOS.
Apple claimed at the time that there was a "bug," and users needed to upgrade to the latest version – iOS 7 – to fix things. But internal documents suggest that Apple knowingly broke FaceTime for tech holdouts because it was costing it money. "Our users on [iOS 6] are basically screwed," an engineer's email included in the legal complaint [PDF] notes.
Six months earlier, the latest version of its operating system, iOS 7, had been released, and included a fundamental change to the way FaceTime worked. But many iPhone 4 users were wary about iOS 7 because the resource-hungry upgrade made their phones run slowly.
So they stuck with iOS 6. But then FaceTime suddenly stopped working, and when asked about it, Apple told them to upgrade to iOS 7 or buy the latest phone – the iPhone 5.
Money talks
Apple had changed the way it did peer-to-peer conferencing – which doesn't cost Apple money because it routes through people's internet connections - because it had been found guilty of infringing patents owned by VirnetX.
A court in 2012 ordered Apple to pay VirnetX a whopping $368m in damages and to keep paying it for the continued use of its patents. Apple fought it all the way and in 2014 an appeals court ordered the figure to be re-evaluated. It was – and a jury came back with an even-bigger sum: $625m. So Apple appealed again and has it re-evaluated again (2016). And was rewarded with a $440m claim for damages (2017).
In the middle of all this, in its determination not to pay VirnetX, Apple starting rewriting its code to avoid the patents altogether, and killed off the use of peer-to-peer FaceTime calls, instead routing them through a relay. That relay, run by Akamai, cost Apple money.
The new system using peer-to-peer systems that didn't infringe the VirnetX patents went live in iOS 7, meaning that iPhone users that continued to run iOS 6 for FaceTime were costing Apple money.
Those users didn't want to upgrade to iOS 7 because it slowed down the phone. And they didn't want to buy a new phone with higher specs that could handle the operating system upgrade just because Apple wanted them to. So, it is claimed, Apple simply cut them off.
It's also worth noting that Apple broke with a long tradition and didn't allow anyone running iOS 7 to downgrade back to iOS 6 out of concern for their phone's poor performance.
Interference
The lawsuit claims that as a result Apple interfered with people's phones without their permission, knowing that it would harm the phone's functioning i.e. making free video conferencing – a key sales point for the phone – impossible. And it claims that Apple was effectively coercing users to upgrade their phones, despite knowing it would cause a dip in performance and without taking responsibility for breaking FaceTime.
Apple hasn't denied that it knowingly broke FaceTime. Instead it tried to shoot down the lawsuit by claiming that the plaintiff – Christina Grace – hadn't actually downloaded iOS 7 so she had no grounds to sue. So Grace added someone else to the lawsuit – Ken Potter – who had downloaded iOS 7 and had had problems with his phone as a result.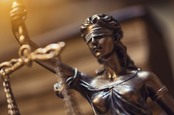 Apple web design violates law, claims blind person
READ MORE
Apple then argued that under its service agreement, all iPhone users had basically agreed it could do whatever it wanted to its phones: an argument the judge threw out.
After 18 months of back-and-forth, this week Judge Koh certified the lawsuit – meaning that it can move forward as a class-action lawsuit and pull in others who have been affected. But there are a couple of limitations.
First, you have to live in California – Judge Koh rejected the attempt to make it a national class-action lawsuit because the laws under consideration vary widely across the country. And second, it can't be on a jail-broken phone.
So if you live in California and got frustrated when your iPhone 4 became incredibly slow and/or were prevented from using FaceTime because you didn't want to upgrade to iOS 7 then you might be in line for a payout if Grace's lawyers win the case.
Of course, this being Apple, if it does lose, it will appeal the decision to the ends of the earth so don't expect that money any time soon. ®