Cops have named the programmer who went on a gun rampage at WTS Paradigm – a US maker of enterprise resource planning software – this week. He shot four colleagues, leaving one in a critical condition.
At around 10.20am on Wednesday, Anthony Tong, 45, who had worked at the company in Middleton, Wisconsin, for little over a year, showed up at the office, pulled out a concealed gun, and opened fire. Staff fled the building, and took shelter in nearby businesses.
The scumbag then shot at police officers who showed up within minutes of the attack on WTS Paradigm. The cops returned fire, taking down their suspect. He was pronounced dead on arrival to hospital.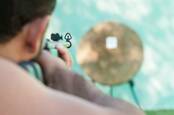 Blood spilled from another US high school shooting has yet to dry – and video games are already being blamed
READ MORE
"The entire WTS Paradigm team is shocked and heartbroken by the incident that occurred today at our Middleton office," the ERP company said in a statement yesterday.
"Our deepest thoughts are with all of our staff and their loved ones. In a situation like this, you learn how great a community really is. We cannot thank the Middleton Police Department, the Dane County Sheriff's Office, and other emergency personnel enough for their amazing response."
In a press conference on Thursday, police said the dead man had worked at WTS since April of last year, did not have a criminal history, and was acting alone at the time of the shooting. At this time, there is no indication as to what caused the murderous outburst and they have appealed for witnesses to get in contact.
One victim is still in a critical condition, while two others have serious injuries. A fourth worked received a graze from a bullet. The victims have not been identified. ®
Similar topics