This article is more than 1 year old
No, that Sunspot Solar Observatory didn't see aliens. It's far more grim
Janitor probed over child sex abuse image allegations, facility reopens
On September 6, the Sunspot Solar Observatory in New Mexico, USA, was evacuated and sealed off without explanation, sparking wild conspiracy theories as to why.
Since it's an observatory, the favorite theory was that it had spotted aliens, and the lockdown was part of a coverup to prevent public panic.
No, there weren't any green-skinned people. On Sunday this week, the Association of Universities for Research in Astronomy shed more light on its decision to temporarily shut the observatory, in concert with the National Science Foundation, and said the closure was due to an unspecified criminal investigation. The good news is that the boffinry center was reopened this week.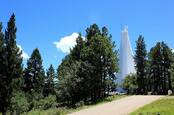 New MeX-Files: The curious case of an evacuated US solar lab, the FBI – and bananas conspiracy theories
READ MORE
The association, which operates the Sunspot facility, went on, though, to say: "We became concerned that a suspect in the investigation potentially posed a threat to the safety of local staff and residents. For this reason, AURA temporarily vacated the facility and ceased science activities at this location." That eggheads added that the small number of staff at the remote location made protection difficult.
More has now emerged on what happened, with Reuters reporting on Wednesday that the FBI is investigating a janitor who allegedly used the facility's Wi-Fi network "to send and receive child pornography."
Telly station KRQE added that investigators linked uploaded and downloaded child sex abuse material to the observatory's IP address, sparking the probe.
The FBI also obtained a warrant to search the suspect's home, Reuters said. ®