This article is more than 1 year old
Renegade 3D-printing gunsmith Cody Wilson on the run in Taipei from child sex allegations
International hunt for American bod after he skips flight home
Cody Wilson, notorious for publishing 3D-printed gun designs online, is believed to be holed up in Taiwan after US cops suspected him of sexually assaulting an underage teenager.
According to police, Wilson, 30, may have fled to Taipei after he was tipped off that officers were investigating claims he paid a 16-year-old girl $500 for sex in his hometown of Austin, Texas – where the legal age of consent is 17. While the renegade gunsmith frequently travels to Taiwan for business, he mysteriously missed his scheduled flight back to America, Austin police commander Troy Officer briefed reporters on Wednesday evening.
As a result, Wilson is now wanted as a fugitive by US Marshals on suspicion of sexual assault:
JUST IN: U.S. Marshals release WANTED poster for Cody Wilson, the Austin man behind 3D printed guns, now charged with sexual assault https://t.co/KoV3CQ5KTO pic.twitter.com/Una3BYYlbe

— CBS Austin (@cbsaustin) September 19, 2018
According to an arrest warrant affidavit [PDF] filed by police in a Travis County district court earlier on Wednesday, Wilson met an under-17 girl on a website that connects young women to well-off men, SugarDaddyMeet.com. Using the handle Sanjuro, he chatted to the teenager, and at one point bragged that he was "a big deal," and revealed his real name, it is claimed. He also put his face on his profile page, allowing cops to verify the account belonged to him, according to the court paperwork. Wilson sent the girl a picture of his penis, and she replied with her own intimate nude photos, it is alleged.
The pair then met at a cafe in South Austin on August 15, and went on to the Archer Hotel in his car, according to the affidavit. The paperwork claimed investigators used security camera footage and hotel booking records to confirm Wilson stayed at the Archer until 9.20pm with the teenager, who was then dropped off at a Whataburger by the 3D-printing guru, according to police.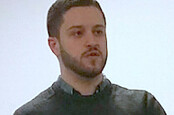 'Maybe I'll go to Hell, but I think it's a good thing' says plastic Liberator gunsmith Cody Wilson
READ MORE
In late August, a counselor tipped off the Austin plod that an under-17 girl had confided she had slept with an older man for money on August 15. In a formal interview, the girl spelled out to investigators the above allegations, which were, we're told, corroborated by officers. That led to the affidavit for Wilson's arrest being filed, and his mysterious disappearance.
In a curious detail, the magistrate judge who approved the arrest warrant told police to take photographs of Wilson's upper legs, so that his skin condition would help identify him.
If found guilty, Wilson would face up to $10,000 in fines and a maximum of 20 years behind bars.
A self-proclaimed crypto-anarchist, Wilson rose to prominence when the US State Department first blocked publication of CAD files for his 3D-printed, and not terribly effective, gun dubbed the Liberator. His company, Defense Distributed, sued the State Department, and a July 2012 settlement permitted the publication of the schematics.
That triggered a legal row that's not yet settled. In late August, a judge issued a preliminary injunction against publication of his blueprints, a decision Wilson called "a farcical, manifest injustice," and promised to "take this to the Ninth Circuit and beyond."
Wilson then interpreted the injunction as applying only to giving away the files for free, so the day after the court order was issued, he started selling the files on USB drives. Wilson was also behind a brief alt-right crowdfunding site called Dark Wallet. ®
Updated to add on September 21
Wilson has been arrested in Taiwan, and faces extradition back to the US.