This article is more than 1 year old
HP Ink should cough up $1.5m for bricking printers using unofficial cartridges – lawsuit
Stung punters seek compo for 'security feature' update
HP Inc customers in the US have asked a California court to sign off on a $1.5m settlement over a firmware update that bricked printers using third-party ink cartridges.
Back in 2016, the print and PC business released an update that was programmed to disable cartridges made by third-party suppliers – after 13 September that year, unlucky customers were unable to use their devices.
The "Dynamic Security Feature" rolled out to the Inkjet machines led to error messages – which HP later admitted were wrong – that popped up to say that ink cartridges were "damaged or missing".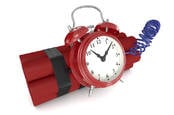 HP Inc's rinky-dink ink stink: Unofficial cartridges, official refills spurned by printer DRM
READ MORE
The firm later backed down and added language to printer boxes to say non-HP cartridges might not work.
HP Inc's decision spawned a class action suit in the US, which plaintiffs filed after their printers stopped working, on the grounds that the pHP had violated unfair competition laws.
The group, which seeks to represent a US-wide class action, has this week filed a proposed settlement (PDF) with the Northern California District Court.
The litigants sought preliminary approval of a settlement that would see HP pay $1.5m into a settlement fund, as well as cough all administrative expenses to fund the claims process.
The plaintiffs said the settlement fund would be sufficient to pay all valid claims from people who owned printers and experienced print interruptions.
In order to ensure the 2.4 million people receive notice, the plaintiffs proposed emailing the 2.2 million whose email addresses remain in HP's records and sending postcard notices to the rest.
In May this year, HP's Australian arm was ordered to compensate Australians who were affected by the update. The country's competition watchdog said buyers should be awarded Au$50 if they were affected. ®