iFixit engineers have an L of a time pulling apart Apple's iPhone XS
Battery has a weird shape, power is down but hey, it has a hidden Notch!
---
The screwdriver fiddlers at iFixit have inflicted their usual brand of affection upon Apple's pricey new phones and found a battery of a most unusual shape.
Having taken a few short seconds to admire the oh-so-shiny Gorilla Glass cover of the XS and XS Max, the iFixit engineers went at the unfortunate devices with an array of openers, suction pads and spudgers to prise the things apart.
The word "spudger" (or "spludger") does not see enough usage in common parlance in our opinion.
As well as the expected hardware improvements, talked up in Apple's announcement, the engineers also noted little in the way of changes to justify the jump from an IP67 to IP68 rating. IP67 machinery should be able to stand a dunking for 30 minutes in one metre of water, whereas IP68 devices can go down to two metres.
The engineers wondered if perhaps Apple might have undersold the waterproofing of the original X, but we'd suggest still keeping your precious handheld away from the water's edge. Or the toilet bowl.
An additional antenna band was noted on the case, suggesting hardware reasons for the jump in speed of the devices on some networks. The engineers also spotted that the bigger pixel count and sensor size of the new camera has come at the price of slightly larger camera bump. So it may be time for a new iPhone X case.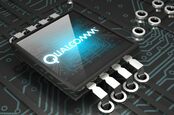 NXP becomes N-nixed-P, Apple snubs Qualcomm modems for Intel chips
READ MORE
Unlike last year's iPhone X, Qualcomm's modem chippery doesn't get a look-in. It appears to be Intel all the way as far telecommunication is concerned, as predicted by Qualcomm's George Davis.
The battery is where things get interesting. The hefty XS Max opts for two cells, which provide 12.08 Wh (3,179mAh at 3.80V), obviously quite a bit beefier than the 10.13 Wh battery (2,659mAh at 3.81V) of the XS (slightly down on last year's X).
However, the XS keeps its power in a single L-shaped cell.
To reduce the stress on the corners of battery due to the shape, Apple has also introduced an internal... notch... to assist with keeping the thing sealed. It can only be a matter of time before certain Android phone makers slavishly follow suit. The net result for Apple is that the new design fills the space better, but at the price of lower capacity.
Much of the rest of the phone was a shrine to Apple custom chippery, though the engineers were pleased to note that while the glass on the front and back was asking for trouble in the event of a drop, the use of screws rather than adhesive meant the device got a score of 6 out of 10 for repairability. Not great, but an improvement over competitor Samsung S9's 4 out of 10. ®