This article is more than 1 year old
Bouncing robots land on asteroid 180m miles away amid mission to fetch sample for Earth
Second time lucky for Japan after first try proved a bust
The Japanese Aerospace Exploration Agency (JAXA) has landed a pair of tiny drum-like hopping robots on the surface of asteroid Ryugu.
The cylindrical bots are about 18cm wide and 7cm tall (7 x 2.8in), and were traveling onboard the Hayabusa2 spacecraft, which left Earth in December 2014.
When the probe reached the right spot several hours ago, the robots, encased in a container called MINERVA-II1, were allowed to slowly free-fall to the asteroid's surface. The rock is roughly 180 million miles from Earth, and it takes about 16 minutes for a radio signal to clear that distance.
Here's the agency's tweet stream showing the photographed descent of MINERVA-II1 containing the two robots, and confirmation the box had successfully separated and touched down on the asteroid:
[MINERVA-II1] September 20 at 23:50 JST: the altitude of the spacecraft is about 6 km. This is the fifth time to reach this altitude. The photograph shows Ryugu, taken with the ONC-W1 at around 23:20 JST. The little world is about 320 million km from the Earth. #asteroidlanding pic.twitter.com/z0wxS8czrH

— HAYABUSA2@JAXA (@haya2e_jaxa) September 20, 2018
[MINERVA-II1] The shadow of Hayabusa2 on the surface of Ryugu is gradually becoming stronger. The altitude of the spacecraft is now down to about 400m.
※The image was captured at universal time, UTC 2018-09-21 03:05 pic.twitter.com/q6rrNTz0VF

— HAYABUSA2@JAXA (@haya2e_jaxa) September 21, 2018
【MINERVA-Ⅱ1】
Heeeeeeere weeeeee cooooome!!!!!!!!! pic.twitter.com/Ppcjr40SgG

— 小惑星探査機「はやぶさ2」 (@haya2_jaxa) September 21, 2018
[MINERVA-II1] September 21 at 13:35 JST. The separation of MINERVA-II1 has been confirmed! The state of the spacecraft is normal.

— HAYABUSA2@JAXA (@haya2e_jaxa) September 21, 2018
This was JAXA's second attempt to land robotic rovers on an asteroid. The first try did not go smoothly in 2005, when the first-generation Hayabusa spacecraft released the bots at the wrong time.
So, here's the second go: Hayabusa2 reached the asteroid's orbit in June earlier this year, and snapped photos of Ryugu to find a good landing spot for its robots. Ryugu is a lumpy diamond shaped asteroid, measuring 1km (0.6mi) in diameter. As a C-type asteroid, Ryugu's surface is dark from its high carbon content.
C-type asteroids are the most common type, though they haven't been studied in much detail. JAXA chose Ryugu because it is believed to contain frozen water and organic matter that hasn't changed much since the formation of the Solar System.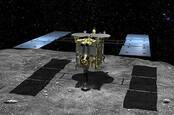 Japan pauses asteroid BOMBING raid – still no word from Bruce Willis?
READ MORE
The ultimate goal is to successfully send back a sample of the asteroid to Earth in 2020 using a separate set of sensors and equipment. It will involve firing a bullet at the rock to kick up enough material that can be collected and returned to our home world.
Before then, MINERVA-II1's robots dubbed ROVER-1A and ROVER-1B will study Ryugu up close and personal. Once released from their container box on the surface, the bots will hop around, happily snapping pictures with their cameras. A built-in accelerometer and gyroscope will help position the rovers and guide them across the asteroid.
They will next year be joined by ROVER-2, a heftier version of the bots that carries optical and ultraviolet lights to snap floating dust particles, and MASCOT, a lander that will hopefully map the asteroid's structure. ROVER-2 is right now sitting in a container dubbed MINERVA-II2 on Hayabusa2, which is waiting patiently above the surface.
The asteroid's name Ryugu translates to dragon's palace. It's taken from a Japanese folk tale about a man called Urashima Taro, a fisherman who rescued a turtle who took him to an underwater palace known as Ryugu.
Taro, apparently, falls in love with a princess who begs him not to leave the palace. But after a few days, he wants to return to land and the princess gives him a parting gift. It's a box that she tells him never to open.
When he arrives back to the surface, he realizes that 300 years has passed and everyone he knew is now dead. He opens the box and is shrouded in a white fog, when it clears he morphs into an old man. The box had kept his old age.
"Hayabusa2 is traveling to an asteroid that we believe has not changed greatly since the Solar System was formed," JAXA staff explained earlier this year. "So while Urashima found his lost past in a box from Ryugu, Hayabusa2 will bring from asteroid Ryugu a box containing a sample from the lost past of our Solar System." ®