Microsoft has released Windows Admin Center 1809 and its SDK, with a variety of tweaks and enhancements to Redmond's latest take on managing a Windows environment.
We took a look at the browser-based product back in April when it was just emerging from its Project Honolulu days and found much to like, but also a bit to dislike about the remote management tool.
Microsoft, on the other hand, is chuffed to bits about how its new server wrangler is getting on, trumpeting in the announcement that it was the fastest growing Windows Server management toolset ever, hitting more than one million total managed nodes in just over two months.
With Windows Server 2019 likely to hit in October, alongside a new version of Windows 10, Microsoft has emitted a new version of Admin Center to support the new OS. If you're already an Admin Center user you have a mere 30 days to upgrade to version 1809 in order to remain supported. Eek.
Fear not, however, because at least one of our complaints has been addressed in the new version. It is now possible to manage Windows 2008 servers (R2 at any rate) in the new version. Admittedly, Windows Insiders have had this functionality since June but 1809 marks the point it becomes generally available.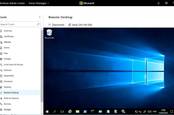 Windows Admin Center: Vulture gets claws on browser-based server admin
READ MORE
Sadly, it's a bit limited and there is still no in-browser remote desktop malarkey to be had. But key functions such as PowerShell, Events, Services and the Registry are all present and correct, which should sate the appetites of most admins.
Microsoft has blamed the lack of Remote Desktop on a "bug in the HTML RD client" and promises a future fix. However, there is little point in hoping for support for desktops earlier than Windows 10 and with support for Windows Server 2008 R2 ending in January 2020, further retro-Admin Center goodness is unlikely. Perhaps sir would care to consider an Azure migration instead?
As well legacy server OS support, Microsoft has also provided the ability to view the underlying PowerShell scripts used by the tool and set-up scheduled tasks. Admins are able to view and remove store and Win32 apps on Windows 10 as well turning on and off Windows features, and also do the same for Win32 apps on the Server. File shares may also be remotely created and edited, and permissions assigned.
With additional support for Hyper-V and clusters, the tool is very much aimed at combining the management of physical machines with things that are a bit more virtual and cloudy (and not necessarily on Microsoft's own Azure).
The arrival of the SDK will also see other vendors able to extend the scope of Admin Center to their own hardware, with the likes of Fujitsu and Pure Storage promising support. ®