This article is more than 1 year old
UK.gov won't Airwave bye for another 3 years, plans to phase in ESN services
Hello Moto: Cops, ambulance, fire to get data services next year, voice to follow
The Home Office has overhauled its plans to replace the UK's emergency services radio infrastructure with a 4G network, extending the lifespan of the existing network by three years and offering users early access to some services.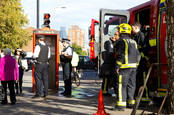 Britain mulls 'complete shutdown' of 4G net for emergency services
READ MORE
The intent was to switch off the Motorola-owned Airwave radio service in 2019, replacing it with the Emergency Services Network (ESN) – but the programme has been beset by problems and delays.
Even a review of the work was pushed back six months, completing in July this year instead of January.
Off the back of the in-depth review, the Home Office has now announced what it is euphemistically calling a "new strategic approach".
This means taking an incremental approach to the rollout – services can pick and choose which ESN products to test whenever they are available rather than waiting for the network to be fully implemented.
"The new incremental approach means police, fire and rescue services, ambulance services and other users will be able to use data services over the network from early next year, with voice capabilities following soon after," the Home Office claimed.
This phased rollout was one of the options revealed by The Register earlier this year, amid concerns that the programme was running behind schedule and could risk public safety.
As predicted, the move means the Home Office has had to ink a deal with Motorola to extend the Airwave network for three years to 31 December 2022, which the firm said was "on substantially similar terms".
The government has also extended an agreement with Motorola Solutions by 30 months to 2024, as part of its delivery of some of the ESN User Services.
This includes a 3GPP standards-based push-to-talk software solution using Kodiak Networks tech – which was acquired by Motorola last year.
The Kodiak solution is built around open international standards. It is set to be compliant with the standards developed for 3G mobile systems from the 3GPP initiative that brings together seven telco standard development bodies.
At the moment, the emergency services use the Public Safety Communications Services (PSCS) suite of applications on the Motorola Wave 7000 products.
The shift would require replacing these products with the latest Motorola Push-To-Talk over broadband platform.
Managers on the programme are understood to have toured UK ambulance services throughout the summer to explain the plans to move to a phased implementation, which would see some services make the move to standards-first delivery model earlier.
According to the government, the new ESN will save the public purse £200m a year once it has fully replaced Airwave – a service that has averaged 99.9 per cent availability since April 2010, but has poor data capabilities and costs about £500 more per device each year. ®