Ooof! Cisco Webex has been down for 7 hours – and counting
It's back up again – can't work in your undies any more
Updated Cisco Webex is currently suffering a seven-hour outage and counting, with biz bods alternately raging at the failure but secretly being glad they don't have to suffer the indignities of teleconferencing.
The "major outage" began at 0122 GMT, according to Cisco's status page. At the time of writing every single service associated with Webex – Teams, Calling, Meetings, Control Hub, Hybrid Services - is down, as is the developer API.
The outage comes a week after Cisco launched Webex Edge and new video conferencing hardware for the widely used video conferencing software.
"Due to the restoration tasks required to address this service incident, there are multiple component updates required, and this is taking additional time to complete. All engineering teams are engaged and continuing to execute remediation tasks to restore access to all services," said an update on the red-splattered Webex status page at 0753 GMT (BST -1), the latest update at the time of writing.
Inevitably, customers took to Twitter to vent their spleens. Unfortunately for Cisco, its blissfully unaware marketing teams continued to pump out soothing sales messages right in the middle of the ongoing outage…
@Webex teams AKA "how to turn a great videoconference system into a horrendous bad copy of Slack" is DOWN https://t.co/StMh5ahZrY
Congrats @CiscoSpark , you're easing Slack's , Discourse and even @Microsoft TEAMS marketing team tasks

— akae (@akae) September 25, 2018
Meetings are a critical part of how we work today. Here's how Cisco is making #meetings better with easier scheduling, new video devices, improved services, & more: https://t.co/oZ6tskhAxn #CiscoWebex pic.twitter.com/JPByQ03zox

— Cisco South Africa (@Cisco_SA) September 25, 2018
Nothing is working, 6 hours already pic.twitter.com/Di8tdZMuef

— WT (@hareluyajin) September 25, 2018
At the start of September Cisco declared that Webex had started to support Giphy, which for the elderly among our readers is a website full of short animations of a humorous nature employing the .GIF file format. Integrating Giphy means millennials ("young people of today") can send each other these GIFs without the hassle of downloading and uploading them.
Thus, as a public service, we embed the very first GIF posted by Cisco's Jonathan Rosenberg (CTO of the "Collaboration business", aka the corporate chunk in charge of Webex) in his blog post announcing the integration. We feel it is an appropriate reflection of public feeling towards the Cisco Webex outage today.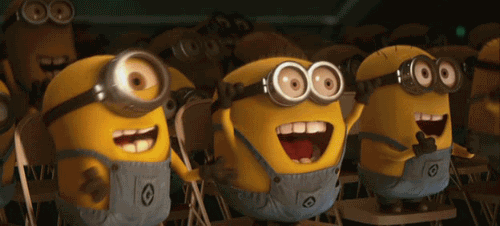 We are awaiting Cisco's official response to us and will update this article if the company responds. ®
Updated at 0945 UTC
Cisco spokeswoman Amy Lucas told us, "We are experiencing some issues with functionalities of Webex. We are aware of the issue and are working to get the functionalities back as soon as possible," adding that affected folk can keep themselves up to date with the Webex status page.
Since the above article was written, Cisco has recovered Webex Messenger and around three-quarters of Webex Meetings functionality, including VoIP calls and video.