Nameless Right To Be Forgotten Google sueball man tries Court of Appeal – yet again
Can he make it to 12 months without telling anyone his real name?
A man who has refused to identify himself to Google or the UK courts but is still trying to drag the ad tech company through a Right To Be Forgotten legal action last week had his second attempt to take it to the Court of Appeal* in London denied by a senior British judge.
The man, who is only known to court staff and judges as ABC after he refused to give them his name, was suing Google in the High Court*, also in Westminster, London. He had asked that a post on squaremilenews.blogspot.com be removed from Google search results because it allegedly refers to a spent criminal conviction he picked up in the past.
A litigant in person with no lawyer of his own, ABC has refused to identify himself to Google, court staff and even judges since late 2017 – something that should have seen his case thrown out immediately. Instead, he has somehow dragged it out for more than 10 months, defying at least two direct judicial orders to identify himself.
Court of Appeal judge Lord Justice Lewison, making a judicial decision in late July, refused ABC's first attempt to appeal against both a December 2017 order that he should give the court his name and a public judgment that rejected ABC's attempt to get an injunction forcing Google to delete the embarrassing search results.
Lord Justice Lewison said: "It is the settled practice of the court not to entertain appeals that are of academic interest only," adding, "Although the Appellant makes textual criticisms of the judge's judgment, appeals are appeals against orders: not against reasons for orders."
ABC wants the search results and the blog post deleted because he is trying to attract venture capital for an investment project, and potential investors searching for his name keep coming up with results about his criminal past. His other fear is that if he identifies himself to Google, the ad tech firm will dox him to the Lumen Database, a website of people and businesses who have used American legal procedures to get embarrassing Google search results deleted.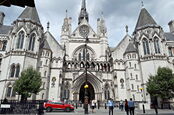 Don't let Google dox me on Lumen Database, nameless man begs
READ MORE
Lord Justice Lewison's July decision knocked ABC's case back down to the High Court. After High Court judge Mr Justice Nicklin lost his patience in August and ordered that "the refusal [by ABC to identify himself] is going to stop and if it doesn't the claim is going to be struck out," ABC was seemingly over a barrel. He had seven days to hand over his identity or that would be the end of it. At least, that was what the judge had hoped.
Instead, ABC tried to take it back up to the Court of Appeal, asking for a stay of execution and permission to appeal against it. This attempt, made in September, got short shrift from the Court of Appeal, which put his appeal on its "stand out" list. This appears to be distinct from its other lists (groups of cases), which include the "short warned" list, the "applications" list and the "expedited" list. Though details are scant, it appears that the stand out list is where appeals not immediately going ahead are placed.
ABC's approach has greatly upset the legal establishment. The Register has found that normally helpful and talkative official sources simply ignore routine requests for information about this particular case, with one High Court clerk who would only identify himself as "E Phillips" citing entirely fictional "data protection" rules while refusing to say if the case had ended or not – a breach of the well-known open justice principle that justice is done, and seen to be done, in public.
Lawyers are concerned that litigants in person are being given advantages by the court system that unfairly skew cases against professionals. This is one such case, and the news that it has been allowed to get this far caused shockwaves of incredulity to reverberate through London's legal-tech establishment, sources have told El Reg.
To protect ABC's identity, the court has already made an anonymity order so reports of his case cannot name him or indirectly identify him.
England and Wales's first ever RTBF case, NT1 and NT2 v Google, went ahead entirely conventionally earlier this year. NT2 won his effort to have the search results about him deleted. NT1 lost and is appealing against that. A hearing is due this winter. ®
* The High Court and Court of Appeal of England and Wales are both based at the Royal Courts of Justice in the Strand in London, walking distance from The Register's London offices.