Amazon Alexa devices stopped working in the UK and reportedly in parts of continental Europe this morning, with some users still complaining of intermittent outages at the time of writing.
The digital blackout began at around 0800 UK time and though it appeared to be recovering by 09.30, some folk – including Reg staffers – were still experiencing service failures at the time of writing.
The creepy always-on audio surveillance device voice-activated home assistant relies on a constant connection to Amazon's servers to function.
Alexa is down.... My house is broken!

— James Luff (@Lufferov) September 26, 2018
Worst part is, the Alarm is stored locally so it still works... But you can't turn it off because Alexa doesn't respond to voice commands.. like "Alexa, stop"!!!

— James Luff (@Lufferov) September 26, 2018
#alexadown #Alexa #amazon Meine Echo dots sind down, der Plus nicht?!?!!!

— testuser000 (@testuser0o0) September 26, 2018
We have asked Amazon to explain what was happening but it hasn't yet replied to us. There are no messages acknowledging the cockup on any of its social media or other marketing channels.
This was the vision of pure hell that greeted one Vulture this morning.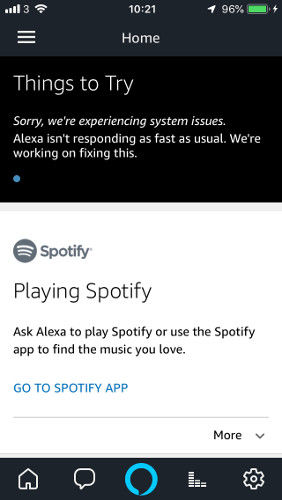 One Reg reader told us he had seen short outages over the past few days.
Are you affected by the outage? Leave us a comment and let us know. ®