This article is more than 1 year old
Salesforce dogged by protests, leaked emails, and guerrilla blimps on first day of Dreamforce
Oh, and the last shreds of Metallica's credibility disappearing on stage
It's that time of year again: CRM loyalists flood San Francisco for the annual Dreamforce conference hosted by Salesforce – but day one hasn't exactly gone to plan.
For a start, on Tuesday, protestors wheeled a huge wooden cage down the street outside the busy conference center to rally against Salesforce signing a multi-million dollar contract to supply software to the US Customs and Border Protection agency – best known for separating small kids from their asylum-seeking families at the American border.
Although Salesforce CEO Marc Benioff has joined other business leaders in condemning the separation of families, he has refused to stop working with CBP.
"While Salesforce is partying at Dreamforce, children separated from their families at the border are having their dreams crushed," said Tihi Hayslett of Demand Progress.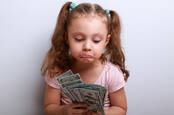 Salesforce boss Marc Benioff objects to US immigration policy so much, he makes millions from, er, US immigration
READ MORE
"We're making our presence known at Dreamforce and inviting their headline speakers Al Gore and Will.i.am, their employees, and their clients to join our chorus and tell Marc Benioff: Cancel The Contract."
The protest was small enough, and didn't perturb the numerous police officers and bomb-sniffing dogs that encircled the Moscone West conference center, nor the delegates, although one attendee got into a shouting match with one of the protestors insisting that Salesforce had done nothing wrong.
However, the protestors had another trick up their sleeves. As the conference kicked off, emails between Benioff and Jonathan Ryan, the executive director of the Refugee and Immigrant Center for Education and Legal Services (Raices), were leaked to the press. The two had been due to discuss the CBP contract, but then Benioff backed out.
"I am sorry I'm actually scuba diving right now," the Salesforce CEO told Ryan in a memo.
Salesforce had tried to give Raices a donation of $250,000 before the email conversation was said to have taken place, however, this was returned by the non-profit, which said that it couldn't accept the cash due to the controversial CBP contract.
The software-as-a-service giant insisted that its contract with CBP has nothing to do with separating families.
Beware the blimp
Another cloud circled the conference center, and the recently completed Salesforce tower that dominates the San Francisco skyline: a massive blimp with #failsforce on the side.
There's a blimp circling #Dreamforce2018 that reads #failsforce @sfchronicle pic.twitter.com/EJuJ7UXu4G

— Jessica Christian (@jachristian) September 25, 2018
The guerrilla marketing blimp was the brainchild of rival CRM firm Freshworks, which decided to use the Dreamforce event to advertise themselves and throw some shade on Salesforce at the same time. It's a tradition as long as San Francisco technology conferences.
AMD used to be the past masters of this. Back when the Intel Developer Forum was still running, AMD would hire a suite in a nearby hotel and would bus conference delegates and journalists – the latter of whom Intel had flown in from around the world at huge cost – in for briefings.
One year the cheeky Athlon chip designer even set up free coffee booths outside IDF. Your humble Reg hack was walking into the conference with an Intel PR when one of the coffee baristas offered the flack a cup.
"Not unless you want to wear it," came the Chipzilla PR's response through gritted teeth.
Master of Powerpoints
In the hall itself, there was a bizarre moment when Lars Ulrich, drummer for middle-of-the-road aging rockers Metallica, came on stage to discuss customer relationship management with Benioff, and extol the virtues of Salesforce software.
Watching Lars Ulrich on stage talking about how @Metallica uses @salesforce software for customer engagement and thinking that adult life hasn't turned out exactly the way I thought it would. #Dreamforce2018 pic.twitter.com/IHbXygU7BF

— Phil Libin (@plibin) September 25, 2018
Metallica, formerly known as the Recording Industry Ass. of America's favorite band after they fronted an anti-piracy campaign, are playing a gig this week at the conference.
The post-show concert is a highlight for many event attendees; the musicians are usually dragged out on stage to hobnob with management and talk about how wonderful their paymasters are.
Possibly the most embarrassing example of this was Sting's appearance at Oracle OpenWorld. Watching Gordon Sumner stumbling through his lines about databases on stage was pitiful, although he played a good session that night.
Other news
In the event itself there was news to be found. Apple has signed up with Salesforce to develop CRM apps for iOS that will be able to use Siri Shortcuts, FaceID, Business Chat and other features. Apple will also get mobile apps from Salesforce ahead of other smartphone platforms.
"We're excited to work with Salesforce and that their industry-leading CRM will embrace native iOS and deliver exclusive new features on iPhone and iPad," said Tim Cook, Apple's CEO, in a canned statement.
"With the powerful combination of iPhone, iPad and iOS — the best hardware and software for business — together with native Salesforce apps and the new Salesforce SDK, we can deliver great customer experiences for businesses around the world."
Salesforce also introduced Einstein Voice to its software, enabling users to just talk to the software rather than having to touch a keyboard by using Einstein Voice Assistant and Einstein Voice Bots.
Another new product announced today was the Salesforce Customer 360, a method for sharing customer data across the different applications produced by the CRM platform. It gives each user an ID that can be used to drag their information with them wherever they go. ®