This article is more than 1 year old
US JEDI military cloud network is so high-tech, bidders will have to submit their proposals by hand, on DVD
2020s cloud contract demands 1990s delivery method
The Pentagon's JEDI system, a cutting-edge cloud platform designed to take the US Department of Defense well into the next decade of technology, will require companies to utilize a delivery system straight out of the era of dial-up modems and pagers.
An updated request for proposals (RFP) guideline issued this week demands that bidders make their pitch to the DoD in person, encoded onto DVDs that can only be dropped off to its office by hand.
"In lieu of electronic submission, an Offeror's entire proposal shall be captured on one or more DVDs and submitted in person only," the RFP now reads.
"No other forms of submission will be accepted. Each DVD shall be clearly marked to show the proposal volume number, solicitation number, Offeror's name, and, if applicable, restrictive legend."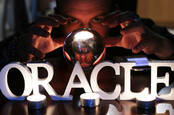 Oracle's JEDI mine trick: IT giant sticks a bomb under Pentagon's $10bn single-vendor cloud plan
READ MORE
The decidedly low-tech method is rather ironic given the nature of a contract that, if successful, will require nary a DVD or on-site technician to operate. The JEDI program is a $10bn contract that will see the winner spend the next decade or so building and operating a cloud platform to handle most of the DoD's day to day IT operations.
The deadline for submissions is set for noon on October 9.
Those who handle the submissions are likely to end up with a sizable chunk of optical media to sort through come next month. Because the Pentagon wants to keep the entire project under the roof of a single provider, the likes of AWS and Microsoft have been jostling to make a bid and claim the entire massive contract for themselves.
Not everyone is happy with the process, however. Oracle, in particular, has fought against the single-vendor requirement, arguing in a formal protest that the rule would unfairly favor giants like AWS and leave the DoD with a worse system in the long run. ®