This article is more than 1 year old
Former Apple engineer fights iPhone giant for patent credit and denied cash, says Steve Jobs loved his 'killer ideas'
Cupertino company's culture turns to crap under Cook, complaint carps
Analysis A former Apple engineer is suing his old employer to force it to acknowledge his role as the inventor of "Find My iPhone" and to compensate him for unfair dismissal.
Darren Eastman, the inventor credited on an Apple patent for detecting battery errors (US 7877631B2), is seeking to have his name added to five Apple patent applications (US 20130326643, 20130326642, 20140364099, 20140199966 and 20140364148) related to locating lost phones and electronic ticketing, the return of 735 Apple shares he claims were unfairly taken from him, and $326,400 in damages, plus $32,640 in interest and $5,000 in attorney's fees.
The electronic ticketing patent application (20140364148), related to Apple's Passbook technology, was allegedly taken from technology Eastman developed prior to joining the company in 2006 and declared in the Intellectual Property Agreement he signed with Apple in 2005.
In the complaint and other documents provided to The Register, Eastman describes how – after being awarded the battery error detection patent which made the original MacBook Air with its user non-serviceable battery viable – he lost his original iPhone back in 2008. That inspired him, he says, to come up with a way to locate a missing smartphone or computer.
Wowing Steve
He says he discussed the idea with Steve Jobs, who said it was "huge" and "a killer idea." In February 2006, as described in a document provided to The Register, he told Jobs about his electronic ticketing idea and Jobs replied the idea was "insanely great" and could "break up the fucking monopoly" held by Ticketmaster.
To document his phone finding idea, Eastman filed it as a Radar ticket (#6262545) in October 2008. (Radar is Apple's internal bug tracking system.) And he shopped it around to others at the company.
Apple's director of iTunes marketing at the time, as Eastman tells it, dismissed the idea, saying customers "would hate such a feature and feel Apple was spying on them."
Eastman, recognizing that his phone finding technique would require Apple infrastructure, recounts how he took the idea in early 2009 to Eddy Cue, then VP of iCloud, and was told the idea was worth considering. He says he subsequently approached Scott Forstall, then VP of iOS, who liked the idea.
Apple's "Find my iPhone" feature debuted in June 2010. Eastman claims he previously asked Forstall if patent protection for the technology should be sought and subsequently emailed Apple patent counsel Richard von Wohld to no avail. Yet, he says, Apple filed four related utility patents in 2012 and 2013, and his name was not listed among the inventors.
The case, which Apple on Thursday asked to have move from the superior court of Santa Clara, California, to a US district court in San Jose, was filed pro se, meaning the plaintiff, Darren Eastman, is representing himself.
In an email to The Register this week, Eastman told us why he is taking the difficult path of representing himself. "I'm representing myself because my attorney had a sudden and serious illness, and, has been recovering for some time. We didn't know if he'd recover quickly enough before statutes of limitations passed from Apple ignoring us for nearly two years. Then, I became financially challenged after not working since 2014."
It's all been downhill since Steve
Eastman's filing says he joined the company in 2006, thanks largely to Apple cofounder and then CEO Steve Jobs, who appreciated his graduate school work on low cost computers.
In 2009, Eastman says, Jobs made him "promise that he'd always work for Apple and indicated that a job would always be available for him." And Jobs, he said, asked Eastman to report Mac software and hardware quality issues directly to him if the problems could not be resolved through standard channels.
These reports continued until Jobs's death in 2011, Eastman says.
Under CEO Tim Cook, however, Eastman contends Apple's commitment to quality has declined. "Many talented employees who've given part of their life for Apple were now regularly being disciplined and terminated for reporting issues they were expected to during Mr. Jobs tenure," his complaint says.
"Cronyism and a dedicated effort to ignore quality issues in current and future products became the most important projects to perpetuate the goal of ignoring the law and minimizing tax."
He asserts that complaints to Cook produced either no response or threats from direct managers. The picture he paints of Apple's current internal culture, if accurate, is dismal.
"The executive team's main focus is eliminating tax liability and bad PR being disseminated about Apple," he claims. "No corporate responsibility exists at Apple since Mr Jobs' death. There's no accountability, with attempts at doing the right thing met with swift retaliation."
The Register asked Apple to comment but we've received no response.
Claims of cruel practices
Eastman goes on to describe a series of alleged wrongdoings by the company, such as the firing of his former manager in 2014 for criticizing a proposed project as a costly boondoggle that the company had already twice failed to make work. The manager's daughter, in a different division, was fired shortly afterwards for reporting toxic mold in the Apple building where she worked, or so Eastman contends.
In 2009, Eastman was denied a request to manage a team he'd been working with for four years. The manager hired, it's alleged, had no college degree, management, or programming experience.
In 2013, he sought unsuccessfully to be moved under a different manager but was denied. Conflict continued between Eastman and his manager and in May 2014, his manager issued a final written warning for discourteous behavior, though Eastman claims he never received a first or second warning.
Eastman says he acquired seven disabilities while working at Apple. In 2013, he says he had life-saving neurosurgery. After eight months on leave, he returned to work four months earlier than expected and says he experienced retaliation, discrimination and eventually unlawful termination.
Apple fired Eastman on September 26, 2014, citing unprofessional and inappropriate communications.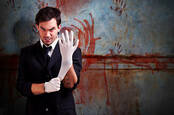 Apple leak: If you leak from Apple, we'll have you arrested, says Apple
READ MORE
According to the complaint, "it was explained via personal email that [Eastman's] fixing a critical quality bug in the Disk Utility application (in the then pending Mac OS update known as Yosemite) and attempting to solicit [his manager] to do his job in ensuring the fix was integrated before customer shipment was improper communication."
The complaint, filed last month, goes on to assert that it's common practice among Apple management to fire employees in September, just before its fiscal calendar begins in October. The timing is to prevent compensation due for the current year's work from being granted, including the vesting of stock, the complaint states.
Eastman claims he was supposed to receive 735 shares of Apple stock after taxes. The shares were deposited to his brokerage account on October 15, 2014, he says, but were immediately retracted.
In a statement emailed to The Register, Eastman explained his rationale for taking on Apple.
"Steve taught me many things, but the most important was that Apple's greatest strength has always been its employees – many of whom make great sacrifices for Apple and deserve the same ethical treatment as if they were working for any other company," he said.
"The responsibility which comes with treating your employees correctly will also help Apple fix its management and quality problems. Being the most valuable company in the world doesn't mean anybody's above the law. I dream of a day when fixing the toughest problems and delighting the customer return to being priorities again at Apple." ®