This article is more than 1 year old
Australia, US and Japan want Huawei local submarine cable project
'Competition' and 'alternatives' offered to change Papua New Guinea government's mind
Australia is once again trying to get Huawei removed from a submarine cable contract in the Asia-Pacific.
The cable in question is planned to link Papua New Guinea communities of Port Moresby, Alotau, Popondetta, Lae and Madang. At Port Moresby, it would connect to the Coral Sea Cable System which at the end of 2019 will land in PNG, the Solomon Islands, and Sydney, Australia.
The AU$277 million domestic cable for PNG government infrastructure body Kumul Telikom is being funded by the Exim Bank of China and built by Huawei, as reported by local news site The National – and that's drawn unwelcome attention from Australia and America.
In the ongoing absence of a US ambassador to Australia, US chargé d'affaires James Carouso speaks for the Trump administration, and he told the Australian Broadcasting Corporation of a three-country attempt to change PNG's mind is in the works.
In this interview, shortly after the five-minute mark, he was asked to confirm that Australia, the US and Japan were working on a counter-offer.
Carouoso agreed that is the case: "These negotiations are going on – it's absolutely up to the PNG government, at the end of the day."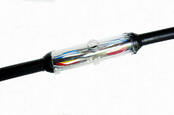 Australia-to-Asia traffic slows as typhoons cut submarine cables
READ MORE
"The whole idea is to give alternatives," he continued. "It's not to say 'don't do business with China'. China offers are on the table – it's up to us to be competitive."
Carouso said America is working to take a bigger trade and investment role in this region, but that has been hampered by complex processes and too many private and public sector bodies making PNG difficult to deal with.
By contrast, he said the "Chinese model" is "just sign here and you will get a port, an airport, whatever you want."
"Competition" and "alternative" are recurring talking points in Asia-Pacific cable politics. In June, when Australia elbowed Huawei out of the Coral Sea Cable System to the Solomon Islands, then foreign minister Julie Bishop said: "It's a competitive world … we want them to have alternatives".
Australian company Vocus won the contract to manage the $137m system (with a substantial contribution from Australia's foreign aid budget) in June, and anointed Alcatel Submarine Networks for the build in July. ®