This article is more than 1 year old
US and UK Amazon workers get a wage hike – maybe they'll go to the movies, by themselves
At $15 an hour, 50,000 full-time and temp staffers will be livin' it up Bezos style - almost
Updated Amazon, the target of a recently introduced bill called the Stop BEZOS Act, on Tuesday said it would raise the minimum wage for all its US workers to $15 an hour.
The change takes effect November 1, 2018, and covers some 250,000 workers at Amazon and its Whole Foods subsidiary, along with 100,000 holiday employees brought on for the sacred seasonal shopping ritual, and staffers employed by temp agencies.
The pay increase also extends to London and the UK. The books-and-everything-else biz announced a new minimum wage of £10.50 for the London area and £9.50 for the rest of the UK, starting in November.
"We listened to our critics, thought hard about what we wanted to do, and decided we want to lead," said Jeff Bezos, Amazon founder, CEO, and the richest person in the world, in a statement. "We're excited about this change and encourage our competitors and other large employers to join us."
US Senator Bernie Sanders (I-VT), co-sponsor with US Representative Ro Khanna (D-CA) of the Stop BEZOs Act – which stands for "Bad Employers by Zeroing Out Subsidies" and represents long-shot legislation to force large companies to pay better wages – hailed the benevolence of Bezos. His legislation targeted companies with staff whose salaries were so low they received government benefits and would make employers recompense the taxpayer for such costs, and Sanders gave Bezos a hat tip.
Acknowledging his past criticism of the company and its leader for paying unlivable wages, Sanders congratulated Bezos for doing the right thing.
"What Mr. Bezos has done today is not only enormously important for Amazon's hundreds of thousands of employees, it could well be a shot heard around the world," said Sanders in a statement. "Mr. Bezos and Amazon are helping to lead the way, but there is no reason why other profitable corporations in the fast food industry, the airlines and retail should not be following suit."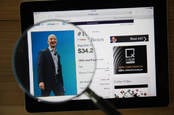 I've got way too much cash, thinks Jeff Bezos. Hmmm, pay more tax? Pay staff more? Nah, let's just go into space
READ MORE
Amazon's minimum wage became the benchmark for every businesses in San Francisco on July 1st this year. But it's more than twice the federal minimum wage of $7.25 an hour.
Sanders said that no worker employed full-time in the US should be living in poverty.
Bezos via Twitter thanked Sanders for the acknowledgement and said he hoped other companies would join in. The wage increase is likely to put pressure on competitors like Walmart, which in February raised its minimum wage to $11 an hour.
It may also hinder efforts to unionize Whole Foods workers, something Amazon has been trying to avoid.
Amazon's decision to open its wallet a bit should welcomed by workers, but there's a lot left to do to reduce the growing income and wealth gap in America and the ratio of CEO-to-worker pay, at 312-to-1 last year, up from 58-to-1 in 1989 and 20-to-1 in 1965. ®
Updated to add
Seems as though Amazon will take away bonuses and stock awards from warehouse staff to pay for those raises, according to Bloomberg. There's always a catch.