Screwed SAP salesman scores $660,000 jury award
Steven Serabian beats software company soundly
---
SAP America has been ordered to pay a former salesman $662,200 for screwing him out of commissions and then firing him when he complained.
Steven Serabian sued SAP in January 2016 after the company kept failing to pay him agreed compensation for his work between 2011 and 2013. Documents produced at the five-day trial showed Serabian was a star salesman, doubling his sales quota and receiving praise from his manager and well as top-ranking performance reviews.
But when the company refused to pay him what he felt was the agreed compensation rate for selling its CRM software, he started asking questions about the incentive program. Then, while still trying to get what he felt he was owed, in October 2014 he was told his position was being terminated.
SAP admitted while firing him that it owed him over $230,000 in unpaid commission and promised to pay it to him in two installments – half when he was let go and the other half a year later in November 2015. The second payment never turned up, so Serabian sued – and included all the other commissions he had been fighting for when he was fired, amounting to just under $800,000.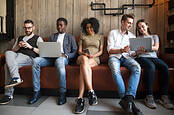 IBM fired me because I'm not a millennial, says axed cloud sales star in age discrim court row
READ MORE
After five days of evidence the jury in Boston awarded him [PDF] two-thirds of that amount ($535,000) but tacked on $120,000 for SAP's conduct when it fired him (unlawful retaliation in legal terms).
Tellingly though, the jury only awarded $7,200 for emotional distress and diddly squat for lost future pay and benefits – because he is, after all, a software salesman. Clearly a very good one.
Amazingly, even after the case had been heard and the jury was deliberating, SAP still insisted that it owed Serabian nothing, arguing in a formal filing [PDF] that he had been paid in full for all the sales he'd closed.
Its argument? That the salesman only gets paid when the customer pays SAP and that he can only get commissions while still working at the company. So even though he did the work and closed the deals, the company didn't get paid until after it had fired him, so he didn't deserve any compensation.
Welcome to modern equivalent of Glengarry Glen Ross. ®
Similar topics
Narrower topics