This article is more than 1 year old
Microsoft resurfaces Surface kit alongside Windows 10 update
Wireless, noise-cancelling Surface headphones teased too
At a media event in New York City on Tuesday, Microsoft refreshed its Surface hardware with the introduction of the Surface Pro 6, Surface Laptop 2 and Surface Studio 2 all-in-one PC.
The Surface Pro 6 sports a quad-core 8th generation Intel processor (Core i5 or Core i7), 8GB or 16GB of RAM, a 12.3-inch display, and an SSD ranging from 128GB to 1TB. Weighing you down by 1.71 or 1.75 pounds, depending on the model (i5/i7), it will lighten your wallet by at least $899. The "all-day battery," as Microsoft puts it, should last about 13.5 hours if not pushed too much. The tablet-keyboard chimera can be had in matte black or platinum.
The Surface Laptop 2, which starts at $999, also features a the same processor (Core i5 or Core i7). Storage ranges from 128GB to 1TB and memory is either 8GB or 16GB. Battery life is said to be 14.5 hours and you'll have to lug around 2.76/2.83 pounds (i5/i7). Color options include black, platinum, burgundy, or cobalt blue.
The Surface Pro 6 and Laptop 2 should be available starting October 16, with pre-orders starting today (albeit for only a subset of possible configurations). In lieu of a lump sum, Microsoft has launched a monthly subscription payment plan called Surface All Access, which starts at $25 per month for hardware, Office 365, support, and unspecified Microsoft Store benefits that are likely better in imagination than in reality.
SSSStudio
The Surface Studio 2 all-in-one PC is a follow-up to the original model from two years ago. It includes a 28-inch, 192 dpi display, an Intel Core i7 processor, a 1TB or 2TB SSD and 16GB or 32GB of RAM. GPU options are either the Nvidia GeForce GTX 1060 with 6GB GDDR5 memory or GeForce GTX 1070 with 8GB GDDR5 memory. Also, it has built-in Xbox Wireless support for connecting to Xbox One controllers.
Pricing ranges from $3,500 to $4,800, with no availability date specified. For what it's worth, Microsoft chief product officer Panos Panay in a blog post said the device has "next generation Pascal graphics and 50 percent faster GPU." In other notable numbers, brightness has increased 38 per cent, contrast has increased 22 per cent and there are now 4,096 levels of pressure with which to finesse the touchscreen.
The two portable Surface slabs rely on Microsoft's proprietary Surface Connect port and a USB-A port, which may annoy those who'd prefer USB-C. The desk-bound Studio 2 has a USB-C port in addition to USB-A and other ports like Gigabit Ethernet.
In the miscellaneous kit category, Microsoft teased soon-to-be-released wireless, noise cancelling Surface Headphones. Capable of conveying Cortana kibitzing or taking Skype calls (via Bluetooth 4.2), Redmond's techno ear muffs will set you back $350 when they show up on store shelves in the US and UK sometime later this year.
The headphones connect with devices running Windows 10, Android, iOS and macOS. Charging is done via USB-C.
Windows workings
Coincidentally, the Windows 10 October 2018 Update slithered forth on Tuesday, alongside additions to Office 365, To-Do and Outlook.com.
Among the more noteworthy features is a new Your Phone app, which makes photos and texts from your Android phone show up on your computer. iOS users can share web content to a Windows PC.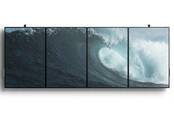 Microsoft adds delayed gratification to the Surface Hub 2 line
READ MORE
The Windows 10 Timeline has made it to mobile devices. It's now available as a preview via the Microsoft Launcher app on Android and is coming soon for iPhones.
PowerPoint and Word can now handle embedded 3D animations and have been given an AI injection that provides some measure of handwriting recognition. The apps will transform bulleted lists drawn on touch devices into properly formatted lists, and will (maybe) turn hand-rendered words and doodles into text and manipulable graphics. And supposedly PowerPoint Designer will recommend slides and Smart Art based on hand-crafted touch-scrawls.
Microsoft senior comms manager Jennifer Chen delves into the details in a blog post. The Windows October 2018 Update is scheduled to hit current devices that have automatic updates enabled on October 9th. ®