UK's Openreach sends full fibre to Coventry
Slow your roll... only Radford's hooked up for now
---
Full-fibre broadband has reached Coventry, Openreach has declared – while adding that it had made 600k new FTTP connections.
The fibre-to-the-premises (FTTP) deployment is now available to "tens of thousands" of domestic and commercial buildings across the city, with the Radford area being the first to receive a working deployment.
Connection speeds, according to Openreach, are intended to be up to 1Gbps.
"We are making significant progress in the West Midlands as we get on with building the infrastructure Britain needs to stay ahead in the global digital economy," said Openreach chief exec Clive Selley. "I'm delighted to announce that families and businesses in Coventry will soon be among the first in the UK to benefit from this commitment."
The announcement, made in the middle of the Conservative Party's annual conference, included canned quotes from two Conservative politicians. Margot James MP, a minister, informed us all that "making sure that people have access to full fibre broadband, as quickly as is realistically possible, is of huge importance", while her local colleague Andy Street, mayor of the West Midlands, chipped in with: "The fibre announced today will also support our ambition to be the first 5G region in the UK."
The full-fibre rollout programme is costing taxpayers billions, most of which is being funnelled into Openreach, the wholly owned but legally separate infrastructure subsidiary of the one-time state-owned monopoly telco. The split followed a two-year to-and-fro with UK comms watchdog Ofcom. Openreach this week announced it had completed its Ofcom-mandated transfer of 31,000 staffers from BT to the network infrastructure arm.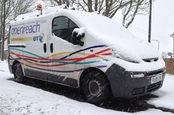 Small UK firms laying fibre put BT's Openreach to shame – report
READ MORE
By April this year, small competitors to Openreach had managed to create a million full-fibre connections, while BT Openreach said it had managed 600,000 to date. Those small players include Hyperoptic, CityFibre and Gigaclear.
That 600,000 connections figure was the sum quoted by Openreach as a target in April.
The government's publicly stated ambition is to install 15 million full-fibre connections by 2025 – ostensibly without government involvement. Instead UK Chancellor Philip Hammond has said its hope is to create "the conditions for the market to deliver". However, he had to admit that this would mean installing 2 million connections per year for the next seven years – a highly ambitious target compared to the current rate. So far there are just over a million such connections.
2025 is an auspicious year in British telecoms terms. The National Infrastructure Commission wants the entirety of Britain's copper phone network to have been melted down for scrap by then.
We have asked Openreach for comment. ®