This article is more than 1 year old
Dutch cheesed off with Russians, expel four suspects over chemical weapons Wi-Fi spying
Russia hits back: Do not 'swallow these provocations'
Four alleged Russian agents have been expelled from the Netherlands after they attempted to hack the chemical weapons watchdog probing the Novichok poisonings in Salisbury, England, and the chemical attack case in Douma, Syria.
According to the Dutch Ministry of Defence on Thursday, the four Russians arrived at Schiphol Airport on April 13 while traveling on diplomatic passports, hired a car, and drove to a Marriott hotel in the Hague. This is next door to the offices of the Organisation for the Prohibition of Chemical Weapons – an intergovernmental team that enforces the Chemical Weapons Convention, the one that tries to eradicate the world of chemical weapons.
The quartet's rental car was found to be full of hacking tools, including a laptop, mobile phones, and Wi-Fi panel antenna. The kit, designed to snoop on Wi-Fi signals, was found on the rear shelf of the car, concealed under a jacket, and was working when cops seized the gear. The Dutch believe the kit was used in an attempt to steal sensitive information such as user login details over the air from the OPCW wireless network, journalists attending a Dutch press conference were told today.
"The cyber operation targeting the OPCW is unacceptable," said Defence Minister Ank Bijleveld in a statement. "Our exposure of this Russian operation is intended as an unambiguous message that the Russian Federation must refrain from such actions.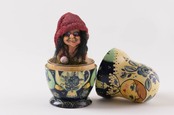 UK pins 'reckless campaign of cyber attacks' on Russian military intelligence
READ MORE
"The OPCW is a respected international institution representing 193 nations around the globe and was established to rid the world of chemical weapons. The Netherlands is responsible for protecting international organisations within its borders, and that is what we have done."
The alleged interrupted wardriving was, we're told, launched after spear-phishing attacks thrown at chemical weapons watchdog failed to bear fruit. The deported men were apparently working for the Russian military intelligence agency GRU, more specifically a group codenamed Sandworm, which attempted to remotely hack the OPCW and the UK government's top-secret research laboratory Porton Down after having a pop at the Brits' Foreign Office computer network in March. UK authorities assisted in the Dutch cops' investigation.
One of the seized laptops was also active in Brazil, Switzerland, and Malaysia. Investigators reckon the kit was used in Malaysia to spy on the investigation into the Malaysia Airlines Flight 17 killings, in which a civilian airplane was shot down by a Russian-made missile over eastern Ukraine in 2014. The laptop was present in a Malaysian hotel where crash investigators were based.
"We had previously informed the Dutch House of Representatives of the Russian Federation's interest in the MH17 investigation," said the director of the Defence Intelligence and Security Service, Major General Onno Eichelsheim.
"As we stated earlier, manipulation and influencing are among the potential threats to the MH17 investigation. All of the organisations involved in the criminal investigation into the MH17 crash are aware of the digital threats that they face and have taken appropriate measures to address these threats."
The head of Russia's Foreign Affairs Committee Konstantin Kosachev denied the allegations in a statement on his Facebook page. He accused NATO states of making up claims about Russia as part of a propaganda campaign, and said Russians would not "swallow these provocations." ®