This article is more than 1 year old
Microsoft yanks the document-destroying Windows 10 October 2018 Update
Day four exceeds all expectations as Microsoft steps back from brink
Microsoft has taken the unprecedented step of pulling a Windows 10 release a mere four days after its arrival amid a clamour of users complaining about files not being where they had left them.
Windows Insider supremo Dona Sarkar took to Twitter to announce that Windows fans would no longer be able to get their hands on the afflicted build. Redmond said the automatic rollout would also be paused until it works out just what in blue blazes is going on.
#WindowsInsiders If you've run into the "missing files after update" issue for 1809/October 2018 Fall update, please call our support line. They have the tools to get you back to a good state. This build is no longer available to download manually: https://t.co/Ce9WVILknp pic.twitter.com/fvisQi1c8g

— Dona Sarkar (@donasarkar) October 6, 2018
Microsoft's advice to those who have downloaded the build is: for goodness' sake, don't install the thing. However, if you have gone ahead and allowed the update to do its stuff and been hit by the missing files issue, leave your PC alone and give Microsoft a telephone call for help.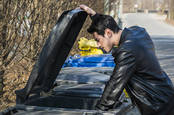 On the third day of Windows Microsoft gave to me: A file-munching run of DELTREE
READ MORE
The update made an appearance on 2 October, having gone directly into the hands of users rather than spending some time in the Windows Insider Release Preview ring first. If you have installed it, and everything is hunky dory (as it is for us), then there is no need to worry.
In her tweet, Sarkar said the person at the other end of the phone will have "the tools to get you back to a good state". Presumably either a file recovery application or a handy install of Linux. At this point we don't know. We contacted our local Microsoft support office and found it was closed. Because, hey, who installs this stuff outside of office hours, right?
Users in Canada have reported being instructed to take their afflicted PCs to a Microsoft store in the hope that some of their files can be restored. How that will work in regions that lack a Microsoft retail presence is unclear. Perhaps Honest Bob's Backstreet Windows Wrangler?
Called your support line for Canada. His best solution was "Take it to my nearest Microsoft Store". I'm in Ottawa Ontario. Nearest store in Canada is Toronto. I do not drive. There has GOT to be a better solution than that. As an Insider, it pains me. Beyond belief.

— Abby Jane Hicks (@AbbyJaneHicks64) October 6, 2018
It is not a good look for the Windows Insider programme. Its more light-hearted tone has come in for some flack over the last year or so. One Microsoft Most Valuable Professional (MVP) for the programme, Kari Finn, went public after being defrocked following criticism of the way things were going.
In his July post, Finn reckoned the programme had "turned into a playground", commenting that: "Developing Windows and getting serious feedback is hidden under a coat of ninja cat and taco hat jokes."
Finn, who described himself to The Register as a "Microsoft and Windows 10 fan boy" expressed concern that feedback was going unanswered and "professionalism is now forgotten".
Preaching to converted. I lost believe in insider programme a year ago. Too much "fun" and ninja cat and not enough hard graft and data.

— Stephen (@StephenCWLL) October 6, 2018
Some would say those concerns have come home to roost as the current woes had been reported in the Windows Insider hub, and yet the release proceeded regardless.
The Reg has dropped Microsoft a line to find out what the recovery process is going to be and where Windows 10 goes from here. If you've had to pick up the phone to one of Redmond's support team, let us know how you got on in the comments below. ®