This article is more than 1 year old
Pentagon's JEDI mind tricks at odds with our 'values' says Google: Ad giant evaporates from $10bn cloud contract bid
'Compliance' is a corporate value isn't it?
Google has withdrawn from bidding on a multi-billion US military cloud contract, citing corporate values. And a lack of certification.
The Chocolate Factory confirmed in a statement on Monday that it has dropped out of the race against tech giants to bag the Pentagon's US$10bn Joint Enterprise Defense Infrastructure (JEDI) cloud contract – and while it led with values as the reason for walking away, it also said it doubted it could achieve the necessary certifications.
"We are not bidding on the JEDI contract because first, we couldn't be assured that it would align with our AI Principles," the advertising giant said, adding that "second, we determined that there were portions of the contract that were out of scope with our current government certifications."
After a two-month delay, the huge "pathfinder" project was launched in July 2018.
Amazon Web Services, IBM, Microsoft, and Oracle are expected bidders, with the latter critical of the Pentagon's winner-takes-all approach to awarding the final contract. Oracle reckons the deal will lock the Pentagon into a legacy cloud (that is, a cloud that isn't Big Red's.)
The Pentagon said it took the controversial decision to make this a single-vendor contract in order to avoid delays it feared would result from a multi-vendor process. It suffered a small delay anyhow, and in September gave vendors an extra three weeks to polish their pitches.
With more than 500 of its own cloud instances, along with fragmented on-premises storage, Uncle Sam's Department of Defense wants to reduce complexity, and has said it can't achieve that with multiple vendors.
The winner-takes-all contract was also a stumbling-block for Google: a multi-vendor offering would let it offer services already carrying the right certification, without having to try and rush through the extra certifications needed to bid on the whole thing.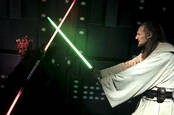 US JEDI military cloud network is so high-tech, bidders will have to submit their proposals by hand, on DVD
READ MORE
A spokesperson told Bloomberg: "Had the JEDI contract been open to multiple vendors, we would have submitted a compelling solution for portions of it … Google Cloud believes that a multi-cloud approach is in the best interest of government agencies, because it allows them to choose the right cloud for the right workload."
In June, Google pulled out of Project Maven, a DoD project using AI to analyze drone footage, after sustained internal criticism from techies prompted CEO Sundar Pichai to articulate the company's AI principles.
Google's inability to comply with the JEDI's single-vendor rule didn't stop the Tech Workers Coalition from claiming credit for getting Mountain View to exit the bidding process.
The group tweeted: "Google had every intention of bidding for, and possibly winning, the JEDI contract. They spent considerable resources and hours of top executive time courting military officials to do exactly this. They only dropped out due to sustained employee pressure."
However, the coalition isn't buying the company's reference to values: "In their statement, Google points to its AI principles as the reason for this decision (principles that are themselves a response to internal dissent). The truth is that the project was stopped by the thousands of workers who demanded a say in what they build."
Google, meanwhile, is happy building a censored search engine for the Chinese government. Here's to those values and ethics, Googlers. Trebles all round! ®