This article is more than 1 year old
Pixel 3, 3XL, Slate tab launch: Google emits swanky iPad botherer while tarting up mobes
Plus a Home Hub unit for the really die-hard fans who trust Google over Amazon
The day after Google confessed to almost exposing the private data of hundreds of thousands of Google+ accounts to app developers, the ad giant unveiled perhaps the most-leaked phone in recent memory.
The Pixel 3 and 3XL was actually available for purchase, in a way, before its launch event in New York today. First prototype units were on sale on the dark web, and by last week, final retail units were freely available in Hong Kong. To cap it all, the order page was leaked in the US by a buggy Verizon webpage.
That left only the price to be confirmed. And that was announced as $799 for the 64GB SIM-free model. Preorders open on October 18 for American fandroids, and November 1 for those in the UK.
Alas for Google, the Pixel Slate ChromeOS tablet and a Home Hub appliance (replacing Google Home) were also leaked widely ahead of their launch today, somewhat spoiling the event.
Pixel 3 and 3XL: The details
The Pixel 3 and 3XL phones retain most of the characteristics of their predecessors: a high price, outstanding single-sensor imaging, no expansion, and a chunky design that's even larger than before. The 3XL model adopts the cutout "notch" of this year's tall displays. Meanwhile, wireless charging, which was built-in before the Nexus line was renamed Pixel, has returned for the new handsets.
The Pixel 3 is a 5.5-inch beast, and the absurdly heavy bezels of the Pixel 2 have been pared back for this version, so it's only slightly larger than before. Google typically gets better results from its single 12Mp camera sensor than rivals get from two or three in their smartphone cameras, and that hasn't changed this time around.
The Pixel 3XL's 6.3-inch display goes closer to the edges. Narcissists will enjoy the dual 8Mp selfie camera that can take wide angle shots. Google also improved its low light photography, dubbing it "Night Sight". The Pixel 3 also gains some features familiar on rival devices: autofocus during video recording, gestures to take photos, and the ability to adjust the bokeh effect after taking a shot.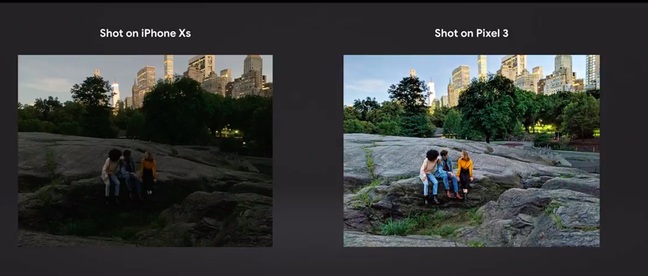 Click to enlarge
Google previewed a call screening service to filter out telemarketers – you get a transcript instead – but it's US-only for now. And Google has put its custom homegrown security chip Titan from its data center servers into the Pixel line, which should ensure the operating system isn't meddled with by malware and hackers. The chip also handles storage encryption, device unlock credentials, and safeguards app data, we're told.
The phones come in black, white, and an pinkish off-white that Google archly calls "not pink", but which is, of course, pink. Most rivals have more memory than the Pixel 3's 4GB of RAM, and this Pixel, like the Nexus line, has no microSD card slot.
The Pixel 3 and 3XL can have up to 128GB of flash storage. Both are powered by Qualcomm's 10nm eight-core Snapdragon 845 system-on-chip. They sport non-removable 2,915 mAh and 3,430 mAh batteries, for the 3 and 3XL respectively. Both run Android 9.0 (Pie). You can find more tech specs for the Pixel 3 here, and the 3XL here.
Home Hub has a superfluous display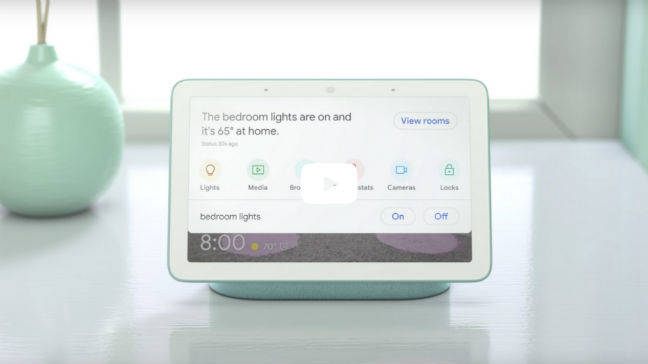 For those that really like displays
Google's $149 Home Hub, a voice-controlled cloud-connected personal assistant, is unlike Facebook's Portal as it doesn't include a camera, let alone one that tracks you around the bedroom. However, like Amazon's Alexa and Echo gizmos, it's always listening. The Hub now recognizes who is speaking, and has a sleep mode where it won't interact with anyone, according to Google, which is clearly conscious of family safety issues, but not so conscious to build in decent parental controls.
Like so much consumer AI – and there's a lot coming – it's still a problem looking for a solution: does it do anything an Echo doesn't? Not really. Is there a compelling use case requiring a color display that your smartphone can't also manage? Not at all.
"My hub gives me access to a library of recipes," said one Google executive, somewhat desperately. "I can even watch a video to figure out how to poach an egg." Anything else? "It's the world's best photo frame," boasted another exec.
Uh. OK.
Pixel Slate: A Chrome-y tablet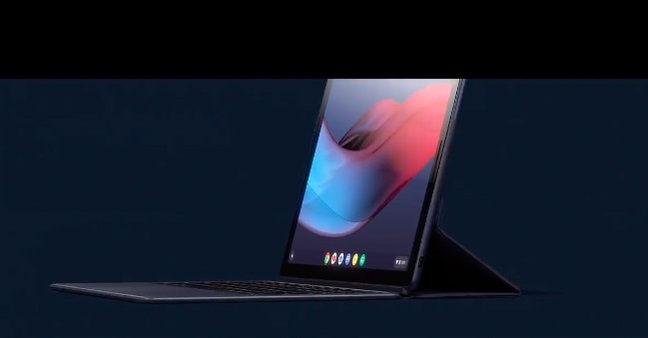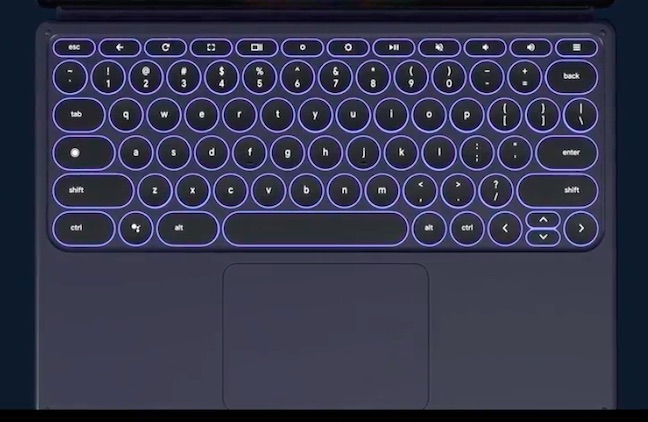 More plausible is the Pixel Slate tablet-laptop hybrid. The Pixel Chromebook was a $1,000 dud. However, that platform looks better now that ChromeOS has matured, and is more accommodating. "You can run developer tools or even Linux applications," said Google.
The Slate is a tablet with a custom ($199) folio keyboard and optional $99 pen – clearly gunning for the iPad and Surface Go markets. Those have a huge legacy app advantage, and $599 is a high-entry level for what's really a bare bones OS.
So Google's consumer effort still remains a work in progress: despite the high promotional budget, it doesn't want too many people to have one. For example, distribution of the Pixel 2 was limited to 12 territories, with only one exclusive partner in the US, Verizon. That's expanded to 16.
It means there isn't much of an aftermarket in accessories for the device, compared to the gadgets available for hardware from rivals such as Samsung. And there are far fewer unique features, too. Only for its photography can the Pixel claim a premium.
For the Pixel-curious, last year's is now a better bargain. ®