'The gulf between apps and infrastructure is blurring' says boss of DevOps darling Puppet
Code automation biz waves its big data yardstick
DevOps biz Puppet held a stage show in San Francisco on Tuesday, because that's how IT vendors get attention these days. It's a rite of passage for Silicon Valley companies of a certain size.
Puppet clearly understands the requirements of the digital dog-and-pony show: palatable pop tunes prior to the keynote; breakfast buffet (with bacon); choice of strawberry- or cucumber-infused water; posse of event-sponsoring cloud-service vendors; table for the press with a power strip; and, above all, enthusiasm for esoteric subject matter.
CEO Sanjay Mirchandani opened the morning's evangelism with a recap of Puppet's recent accomplishments. The company now has nine offices globally and made two acquisition in the past 12 months, Distelli and Reflect.io.
Running Puppetize Live on three continents – North America, Europe and Australia – is an attempt to demonstrate the extent to which company has transformed, said Mirchandani.
Puppet makes software to automate other software and infrastructure. And so it may not come as a surprise that Mirchandani believes there's a need to automate code and kit.
"If you're an engineer today, your business is counting on you to unify how you deliver applications and infrastructure, to make the whole software delivery process transparent through automation," he said.
He has a point: anyone who has ever puzzled over DevOps-oriented command line arcana understands that it's complicated and should be committed to a script once a working formula has been found. You don't want fat-fingered typing to bring your containerized house of cards crashing down, especially when you're operating at scale.
The state of the industry
For skeptics and data delvers, Puppet last month published its 2018 State of DevOps Report, its seventh annual survey of technical professionals about DevOps practices inside their organizations. Among the various findings, the most meaningful for DevOps vendors is that most organizations have only waded waist-deep into the automation pool.
Like tech leaders presiding over similar events, Mirchandani worked Marc Andreessen's 2011 "Why Software Is Eating the World" op-ed into his sermon. And he made the case for DevOps as a way to create, manage and deploy software.
"The gulf between apps and infrastructure is blurring," he said, arguing that automation is at an inflection point. "The DevOps practices that were nice to have two years ago are absolutely must-have today."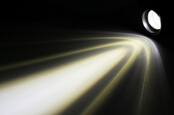 Puppet Insights arrives to shine uncomfortably bright light on DevOps
READ MORE
For the have-nots, Puppet presented products to ease the pain: Puppet Bolt, the company's simplified open source automation framework, hit version 1.0; Puppet Insights, a tool for measuring how fast and how well teams commit code, showed up as a private beta; Puppet Discovery, for corralling IT resources, moved on to version 1.6; Pipelines for Containers 3.3 got Helm support; and Puppet Enterprise 2019 and Continuous Delivery for Puppet Enterprise 2.0 reached general availability.
There are IT automation alternatives, made by the likes of Red Hat's Ansible, Chef, and SaltStack. But when you hold your own show, you get to pick the guest list.
The star of the affair was Puppet Insights, because "You can't improve what you don't measure," as Alex Bilmes, senior director of product at Puppet, put it.
Puppet Insights, based on the visualization tech Puppet acquired through Reflect.io, aspires to be a yardstick for just that sort of assessment. It aims to provide organizations with insight into how often code gets committed, code quality, and the business impact of the software delivery cycle.
During a discussion after the keynote, Forrester analyst Chris Gardner observed that organizations with an interest in DevOps almost uniformly want to know how they can make it scale and make sure it's working.
"We don't have to preach about the value of automation," said Mirchandani. "The stack is programmable. But how do you measure it?"
But more importantly, how to you make automation and data-driven insight accessible.
"Puppet like a lot of technologies started out built for the high priests," said Omri Gazitt, chief product officer. "Now in a majority of cases, many of the customers aren't the high priests, they just need simple ways to get onboarded." ®
Serverless Computing London in November will give you the state of play on serverless and function as a service, and explain how to put them to work in your business. Full details, and ticket information, at the website here.