On the first day of Christmas my true love gave me tea... pigs-in-blankets-flavoured tea
And Brussels sprout... Give it a chai, says Sainsbury's
It's common knowledge that the British are a nation of tea drinkers but – yikes – Sainsbury's launch of pigs in blankets and Brussels sprout-flavoured teas ahead of the Christmas mania are a little beyond the pale brown water.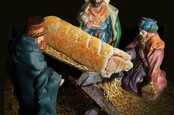 Pastry in a manger: We're soz, Greggs man said
READ MORE
The UK supermarket chain insists the tea will make the perfect stocking filler at just £1 for 20 bags. Yes, we can just see little Timmy's eyes light up at the thought of slurping down a nice hot cup of meat-flavoured liquid (which is vegan, don't you know?) then moving on to the heady bouquet of perhaps the most universally hated vegetable on the planet.
For those not acquainted with the festive season in the British Isles, pigs in blankets are small sausages wrapped in bacon, which really is adding insult to injury once you've been ground up and shoved inside a tube of collagen made from a cow's bum then swaddled in shavings from Aunt Petunia. And they are bloody delicious.
Sprouts, on the other hand, well, no one really knows why we eat sprouts at Christmas. Kids hate them, adults learn to endure them – but somehow the industry is worth £650m a year. They're good for you, packed with vitamin C, and grow well in the temperate climate of Northern Europe. But they taste like soapy cabbage. Now imagine drinking one.
Such festive marketing gimmicks are common worldwide, but in the UK acquire a uniquely local flavour. Last year budget pastry purveyor Greggs kicked up a stink by releasing an Advent calendar featuring a sausage roll in a manger rather than the Logos Emmanuel, Son of God himself, Jesus Christ.
Religious sorts turned the other cheek all right – by boycotting the chain, eliciting an apology from Greggs and a classic El Reg headline.
But what's really more offensive? Brussels sprout tea or sausage roll Jesus. It's certainly close. ®