This article is more than 1 year old
Phew! Digital ad revenues to save Amazon's business model – analyst
Finally, Jeff Bezos can sleep easy on his cash pillow
Canalys Channels Forum 2018 The billions of dollars in ad revenue that Amazon is turning over each quarter will bankroll the capital expenditure of new data centre builds at AWS for years to come, sustaining the business model.
So said Steve Brazier, CEO at respected industry-watcher Canalys, at its Barcelona conference today. Until now, Brazier had repeatedly proclaimed gloomy days ahead for Jeff Bezos' cloud biz based on losses he calculated it was making and on the level of borrowing that he said left it vulnerable to interest rate hikes.
The change of mind was brought about by the $2.2bn in "margin-rich" sales Amazon reported in its calendar Q2 quarter, which Brazier said was "getting close" to the figure AWS spends on cap-ex every three months.
That ad revenue figure was up 129 per cent on the prior year's haul.
Amazon spent $2.9bn on cap-ex in calendar Q2, a figure that primarily reflected the additional capacity in its retail fulfilment centres and continued growth in the tech infrastructure, which mostly supports AWS.
"You will remember at this conference... that we said it was unsustainable for Amazon to keep investing at the rate they were because they didn't have the cash flow," said Brazier.
"By launching and doing so well in a very margin-rich cash-positive business of advertising they have improved their balance sheet remarkably. They still have challenges and their free cash flow is still very low for a company of their size," he told an audience at the annual Channels Forum.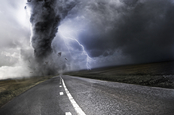 Cisco president: One 'hiccup' and 'boom' – AWS is 'gone'
READ MORE
The meteoric rise of digital ad spend being scooped up by Amazon was not predicted by Canalys, Brazier admitted.
"Amazon can afford the cap-ex journey it needs to keep going on quarter after quarter and presumably forever because the cloud will never stop growing."
Analyst Piper Jaffrey released a report in August predicting that Amazon's ad revenue will reach $16bn by 2021, higher than the $15bn he anticipates AWS will bring in.
"Being the world's largest product search engine has its advantages, and Amazon is starting to leverage them," stated analyst Michael Olsen.
"Advertising will be a driver to watch, as the retail industry continues to live or die by the shift to direct-to-consumer, and digital channels and real estate on Amazon, more than any other digital company, may have a direct line of sight on the multibillion-dollar 'trade promotion/merchandising' budgets of many marketers." ®