Microsoft has signed up to the Open Invention Network. We repeat. Microsoft has signed up to the OIN
That 60,000 patents in your pocket or are you just pleased to see us?
Who would have thought it? Not content with signing with LOT Network, Microsoft has taken the next step in patent cuddling and joined the Open Invention Network.
A month shy of its 14th birthday, the Open Invention Network (OIN) was obviously very happy to welcome the beast of Redmond, and 60,000 or so of its patents, into the group, which consists of nearly 2,700 companies and includes the likes of Google and IBM.
OIN is all about Linux, and protecting its fans from trolls waving the Intellectual Property (IP) stick at the platform. OIN does this by providing a royalty-free licence to its strategic IP portfolio and cross-licensing patents between its members. In return it expects that licensees do not assert their patents against the Linux community.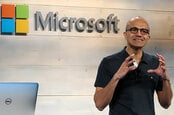 Redmond top man Satya Nadella: 'Microsoft LOVES Linux'
READ MORE
Microsoft signing up is therefore yet another big step in Redmond's attempts to distance itself from its "Linux is cancer" past, and demonstrate its open-source chops.
In words that would have made Microsoft bosses of yesteryear choke on their penguin burgers, corporate veep (and deputy general counsel) Erich Andersen reckoned the move would mean "Microsoft will be able to do more than ever to help protect Linux" from patent assertions, before adding: "We bring a valuable and deep portfolio of over 60,000 issued patents to OIN for the benefit of Linux and other open source technologies."
Wow. Now, that's not all of Microsoft's 90,000-odd technology patents. It's keeping the ones that cover specifically Windows and other products. But, still. Microsoft "protecting" Linux after previously laying siege to it. Wow.
CEO of OIN Keith Bergelt was chuffed to welcome the Windows vendor into the fold, saying that "through its participation in OIN, Microsoft is explicitly acknowledging the importance of open source software to its future growth" before modestly going on to say that "the litmus test for authentic behavior in the OSS community includes OIN participation".
Soon-to-be-CEO of GitHub Nat Friedman excitedly tweeted about the news, which led to one Twitter wag reminding everyone of Microsoft's earlier habit of collecting billions of dollars in patent license fees from makers of Linux-based Android phones, anyone who dared to support the Windows FAT32 file system, and so on. Perhaps with those patent royalties dried up or settled, Redmond has now happily handed over its exhausted war chest?
October 10, 2018
Friedman's reply was to simply point at the Open Invention Network's definition of the Linux system. Classy. ®