This article is more than 1 year old
PC makers: Intel CPU shortages are here to stay ... for six months
If it's not one DRAM thing, it's another
Canalys Channels Forum 2018 As Intel battles to get on top of CPU shortages that have plagued its business in recent times, the world's largest computer makers are hunkering down for six months of tight supply.
A surge in Windows 10 PC refreshes, demand from cloud infrastructure builders and Apple, coupled with struggles to produce 10nm silicon has caught Intel short, so to speak.
Talking at the Canalys Channels Forum in Barcelona today, HP CEO Dion Weisler described the situation as "unfortunate when any key component goes into shortage".
"Last year it was DRAM and the year before that we had the fire, and there were battery shortages, and the year before that we had a DRAM shortage," he said.
"There's always something in this industry, at the moment it happens to be chips from Intel, and I think that affects sub scale partners more than it affects larger partners."
Weisler said the shortages will be likely for "the next six months" but added "AMD has got a fantastic portfolio. They are really strong now".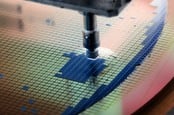 Intel boss admits chips in short supply, lobs cash into the quagmire
READ MORE
Lenovo COO Gianfranco Lanci said PC vendors with less scale and buying powers will be "suffering more than us".
"It's going to be in my opinion probably for the next six months," he told the audience. "I agree that AMD is going to be a good alternative in terms of performance, it's a good alternative in terms of supply."
Intel's CFO and interim CEO Robert Swan last month wrote a letter to reassure customers that Chipzilla would be able to be able to meet demand, prioritising production of Xeon and Core processors to serve "high-performance segments" of the market.
He admitted, however, that "supply is undoubtedly tight, particularly at the entry-level of the PC market".
With memory prices dropping, Canalys CEO Steve Brazier said that, overall, the price of computer should stay flat – unlike AMD's share price, which has more than doubled this year to over $27.
"This quarter AMD will achieve its highest share of PC sales for more than a decade and probably of servers too," said Brazier. "Intel is short, AMD has a more advanced product line, the market is moving to AMD, and they are going to have an awesome quarter and that's why the share price has gone so high." ®