Russian media is reporting that someone has tried to torch the notorious St Petersberg "troll factory," linked with trolling Western social media sites, sparking a police investigation.
The Internet Research Agency became famous as a "fake news" operation spreading misinformation by way of Facebook ads, and stealing Americans' identities to set up the PayPal accounts that paid for the ads. In February, US authorities indicted 13 individuals as operating the troll factory.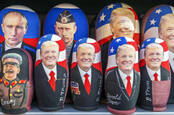 Mueller bombshell: 13 Russian 'troll factory' staffers charged with allegedly meddling in US presidential election
READ MORE
Russian outlet RBC reported last year (in Russian) that the agency had reinvented itself as a media operation, Federal News Agency, claiming an audience of 36 million people.
Fontaka.ru reported (in Russian) the offices of Federal News Agency were attacked by an arsonist on October 9.
"An unidentified man broke the glass on the first floor of a building on Beloostrovskaya Street, 8 at 2:55 on October 9, and then threw a hot mixture into the office," that report said. The fire was extinguished by a guard.
The report added that a cobblestone was used to smash the window, and that the "incendiary mixture" was poured onto the window-sill and set fire.
According to this RBC report (again in Russian), Federal News Agency is associated with oligarch Yevgeny Prigozhin, "Putin's cook", one of the Russians indicted by the US in February.
Federal News Agency told Fontaka it was subject to an attack just before the Russian presidential election in March. ®
Similar topics