Backgrounder IT infrastructure has become more complex as virtualization and private clouds have added more cream and sponge to the technology layer cake within businesses.
Tech budgets, meanwhile, are tightening, and the number of staff with skills to manage specialized areas such as networking and storage appears to be falling. This has led to somewhat of a shortage of folks with the right skills.
Enter converged infrastructure. Vendors have begun packaging their products to make them supposedly simpler to deploy and manage by virtue of the fact the hardware has been pre-integrated, and is largely, depending on who they and you are, ready to slot into a data center.
Converged infrastructure supposedly delivers servers, storage, and networking hardware all in a pre-configured bundle that works together with a fully validated software stack. In addition, you've got a single point of contact for support in the event of problems.
The most recent vendor to bring such a system to market is NetApp, which has integrated its fabric-attached storage (FAS) and all-flash FAS (AFF) arrays with Fujitsu's PRIMERGY CX servers, and switches from Extreme Networks, to create the NFLEX line-up. Other examples include Dell EMC's VxBlock, which combines Cisco servers and switches with various Dell EMC storage arrays, while HPE has its Converged System portfolio, largely based on its own server, storage, and network hardware.
The idea of converged infrastructure is certainly proving popular: worldwide revenue for such integrated systems stood at $3.2bn during the first quarter of 2018, representing a year-on-year increase of 19.6 per cent, according to figures from analyst firm IDC.
But all of this integration comes with downsides. Products are often limited to a range of configurations that are optimized only for particular workloads. If you want something a little different you're stuck. There is, too, the risk of getting locked in to a single supplier as there exists no industry standards for converged infrastructure – it's convergence on a vendor-by-vendor basis.
Temptations
It's for exactly these reasons that some people out there have been tempted in recent years to converge themselves using a combination of virtualization, software management, and server hardware. Taking this route to software-defined infrastructure has its upsides – yet it's worth looking at the negatives, too.
Starting out you will need to carefully chose the "right" components, ensure they are compatible with each other, and then to configure them so that they operate together. You will need not just the correct virtualization technology and VM management software, but also the correct licenses for each of these – plus correct licensing for the operating system and any applications. Licensing is complicated at the best of times. In a software-defined world, it's a gift to vendors' sales and license compliance troops.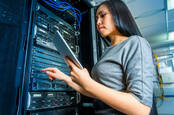 How HCI simplifies the data center
READ MORE
Into this you must plug the right networking and the correct storage capacity. Straddling and permeating the lot, you will need to build and develop a software layer to control and monitor the infrastructure, and – of course – manage applications and their resources. This means you need something approximating a dashboard capable of showing how much resource, such as compute and storage, you are using, and when you might start to run out.
Clive Longbottom, service director at analyst Quocirca, summed it up: "Any organization deciding to do it themselves from the ground up as a DIY project has to fight the problems of different types of hardware from different suppliers along with getting a software suite together that can operate on top of all that hardware to provision, monitor and manage what is going on."
Not only will this be a difficult and time consuming exercise, but the costs involved may also easily wipe out any savings made on the purchase actually buying something.
IDC, for example, developed an economic model that puts some figures on the benefits of reducing IT complexity, and claimed that companies it studied were able to realize annual benefits of $3,610 per user through IT simplification initiatives, including infrastructure cost reductions, lower costs for IT management and operations, and delivering IT services faster with better quality.
What are your options?
Taking the converged approach to its logical conclusion is Hyper Converged Infrastructure (HCI), where everything is integrated into a single, highly virtualized appliance-like node, and storage is provided by pooling the direct attached resources across a cluster of these nodes. Nutanix is a good example of this, as is SimpliVity and its platform (now part of HPE).
HCI has advantages, such as the ability to scale simply by adding more nodes. This kind of system, though, is even more tightly integrated, and organizations choosing the DIY path with this kind of infrastructure may struggle to reach the same level of performance using off-the-shelf components.
According to Longbottom: "HCI is hyper-engineered to get the best possible performance from a given set of hardware configuration, and some of that overall performance will be from using proprietary interconnects and software within the system." One of the main drivers for converged infrastructure as a whole is that you can quickly stand up a private cloud without worry about all the complexities of supporting separate piles of compute, storage and network resources, for this purpose.
This was highlighted by Forrester in a report that stated: "The fastest path to cloud for most organisations is a fully integrated solution from one of the vendors offering converged private cloud solutions. This approach fast-tracks your journey-to-cloud from a technology standpoint and lets you focus on the organisational and process transformations required to support a true and efficient private cloud."
Yup, that's a mouthful of analystese, but cutting to the chase: the DIY approach is the opposite of the supposed benefits of pre-integration.
Complicating things further is hybrid cloud, which mixes on-premises infrastructure with cloud services. Get hybrid wrong, and you risk creating technology silos that exist separately from each other. Getting it "right" may simply be a question of having cloud management software that offers oversight of both your converged infrastructure and any public cloud resources.
Many of the commercial platforms, however, have the built-in ability to extend to one or more of the major public clouds as part of their management suite. In addition, commercial converged infrastructure tends to offer components such as storage arrays with cloud-connectivity, making it easier to implement capabilities such as snapshots and mirroring to the cloud for disaster recovery.
Betting the farm
Converged infrastructure is growing, but it's by no means mainstream. Buy converged at this early phase in the industry's cycle, and you're almost certainly taking a punt on not getting locked in or taking on systems for specific rather than general-purpose use.
DIY will look tempting, but you risk facing time, price, and functionality hurdles that may well negate any of the savings you had hoped for. Again, though, this may depend on the use – you could build something suited to your needs, if your needs are relatively specific or uncomplicated.
"I would not like to bet the farm on doing this," says Longbottom who seems willing to take a hit if it means convenience. "I would prefer to be able to procure a complete system from a specific vendor and have it up and running within hours of it being delivered, with expansion capabilities being guaranteed - even if it is at a premium price - and with management software that is tuned because it fully understands what is going on underneath it."
To build or buy, then, that is the question. ®