Google Cloud Next Google has released another handful of networking features for its cloud, including Cloud NAT, which lets devs build cloud-based services that do not have public IP addresses.
"With the beta release of Cloud NAT, our new Google-managed Network Address Translation service, you can provision your application instances without public IP addresses while also allowing them to access the internet—for updates, patching, config management, and more—in a controlled and efficient manner," burbled Google in a statement.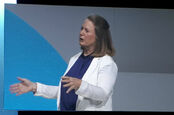 Google Cloud boss promises 'security built into every layer of the system' at UK shindig
READ MORE
The idea is to keep virtual private clouds secure by isolating them as far as possible from access by those in the outside world .
Cloud NAT will, according to Google, support both Google Compute Engine instances and Google Kubernetes Engine containers, automatic NAT IP allocation and multiple NAT IP addresses per gateway.
Other new features include firewall rules logging, which shows alerts when multiple attempted rule violations are detected in short order. In theory this should either show a malicious access attempt or accidental blocking of an important function. Google claims the flash-to-bang time between firewall denials and alerts being generated is five seconds, "providing near real-time visibility into your environment".
Finally, container-native load balancing and managed TLS certs for HTTPS load balancers have also been rolled out. Full technical details are available on the Google blog post, complete with links. ®
Sponsored: Webcast: Ransomware has gone nuclear