Microsoft Windows 10 October update giving HP users BSOD
Auto-updates come with a sting
---
Updated Microsoft on Tuesday posted KB4464330 (Windows 10 1809 Build 17763.55) in an effort to halt the damage done by last week's Windows 10 version 1809 update, but it hasn't quite worked.
Reports of update inflicted file deletion and loss of internet connectivity for Microsoft Edge and Microsoft Store apps have died down. But users of some HP machines tell of seeing the blue screen of death (BSOD) after attempting to update their desktops and laptops.
"After installing KB4464330 (build 17763.55) my HP EliteDesk 800 G3 the machine refuses to boot, ending with BSOD WDF_VIOLATION," wrote a user identified as "Mikael Sillman," who also reports hearing from Microsoft support that Dell machines have been affected too.
The error code refers to an issue with the Windows Driver Framework.
A post to HP's support forum had a similar tale.
"After doing updates, this machine blue screens with the error message WDF_VIOLATION," wrote an individual identified as "PhilBJSPC." "I cannot boot to safe mode and it does not allow me to do a system restore before the updates have gone through. …"
Redmond in the clear?
In the discussion of the issue on the Microsoft support forum, it's been suggested that KB4464330 conflicts with the HP keyboard driver file HpqKbFiltr.sys. Renaming the file is floated as a potential fix.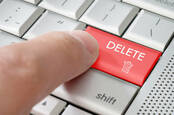 Microsoft deletes deleterious file deletion bug from Windows 10 October 2018 Update
READ MORE
From the command prompt, this involves navigating to c:\windows\system32\drivers and renaming the file – ren HpqKbFiltr.sys HpqKbFiltr.sys_old – and rebooting.
But in a thread on Reddit, changing the file fails to fix the problem for some.
The Register asked Microsoft and HP for comment but we've not heard back.
The update debate has divided security experts about whether automatic updates are more trouble than they're worth because bad code can cause data loss.
"This is why auto-installed updates are so dangerous," observed Steve Bellovin, a professor in the computer science department at Columbia University, via Twitter.
But Washington Post reporter Barton Gellman defended auto-updates, arguing they do more good than harm.
Alex Stamos, former CISO at Facebook, concurred, saying, "The spread of auto-updates has been one of the few bright spots in consumer online safety in the last five years. Advanced and corporate users will always be able to disable the update mechanism, but the number of disasters is incredibly small compared to the upside."
Try to remember that the next time you have to repair an update gone awry. ®
Updated to add
"We're aware of reports and looking into the matter further," Redmond's spokesperson told The Reg.
Updated to add October 12
Microsoft say it has issued an update that removes an HP Keyboard driver (11.0.3.1) from Windows 10 versions 1803 and 1809 for causing problems.
"After installing the HP keyboard driver, version 11.0.3.1, via Windows Update or if you manually installed it, HP devices may experience a blue screen stop error: WDF_VIOLATION," the company's notification explains. "This driver has a known incompatibility with certain HP devices on Windows 10 versions 1803 and 1809."