Put on your clogs, take a close look at what DevOps fave Puppet flung out this week
New bits from Amsterdam
Config management and automation outfit Puppet rolled out a slew of updates to its DevOps toolset in front of a crowd of excitable engineers at its Puppetize Live event in Amsterdam this week, with an eye on security and automation.
While their San Francisco colleagues sipped on cucumber-infused water, Puppet engineers in the Netherlands girded their loins with the aid of some hearty stroopwafels and took to the stage to show off what else was in the Puppet box as well as the crowd-pleasing Insights.
OpenStack Disco(very)
Puppet Discovery, which crawls all over an organisation's IT estate to identify what is actually running, got a version bump to 1.6. The tool, which scans for resources over cloud or on-premises infrastructure as well as peering at containers is, according to Puppet, often used during acquisitions as excited new owners try and work out exactly what they have bought. Like, er, Reflect maybe?
As well as a slew of minor tweaks the new version has a couple of notable new features.
The first, which was a curious omission in the initial release last year, is OpenStack support.
The second, lurking as a beta, is Vulnerability Remediation. While scanning packages for vulnerabilities is nothing particularly new, the goal with remediation is to remove the tiresome spreadsheets that are usually spat out for a human to deal with. Instead, a prioritised workflow is created to get new packages deployed for testing and production.
Enterprise, Pipeline and Bolt
Puppet's automation flagship product, Puppet Enterprise, gets a 2019 moniker and the ability to configure infrastructure without faffing around with agents. Admins tired of having to manually press the Go button on jobs out of hours will also be delighted to know that a job scheduler has finally made an appearance.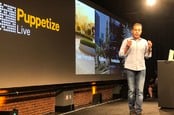 'The gulf between apps and infrastructure is blurring' says boss of DevOps darling Puppet
READ MORE
Puppet Pipelines saw some love too, and now includes an end-to-end workflow for building and deploying packages to Kubernetes using Helm charts. Puppet is quick to trumpet its container credentials, so the addition of support for Helm, which has become a highly popular way of packaging up a containerised application and its dependencies, is most welcome and can also be filed under "about time too".
Continuous Delivery for Puppet Enterprise 2.0 now includes an Impact Analysis tool to give users a heads up on just how big an impact proposed code change is going to have along with pre-built starter code for testing jobs that engineers can tweak to meet their needs.
Finally, the open source automation tool, Puppet Bolt, which first made an appearance in beta last year, has achieved v1.0 status.
The Ruby-based command line tool uses SSH or WinRM to run tasks on remote systems, and allows engineers to perform simple activities such as bouncing services or slurping system information without having to actually know Puppet .
With v1.0, users can now make use of modules from the PuppetForge as well as the likes of Bash and PowerShell scripts (or whatever your host supports) allowing the ambitious to attempt some considerably more complicated activities, such as deploying database servers or setting up Docker.
Of course, Puppet is not the only game in town. The likes of Red Hat Ansible give DevOps true believers a similar array of orchestration options. But as Puppet continues to fling out features like a DevOps Catherine Wheel, developers are increasingly spoiled for choice. ®