Comment Thursday's failed Soyuz launch, carrying kit and astronauts to the International Space Station means NASA is fast running out of options for shipping stuff into orbit. Especially since its homespun solutions aren't living up to their earlier promise.
The US space agency hasn't been wild about using the Russians as a delivery service for years, and so it was with some relief that Uncle Sam's boffins announced contracts with Boeing and SpaceX for commercial crew delivery. Both companies were due to start testing by this year, however, the engineering requirements and the thorough testing needed means the timing of those experiments have slipped badly.
SpaceX is leading the race into space, or at least near-Earth orbit. Elon's Musketeers are scheduled to fly an unmanned Crew Dragon spacecraft in January, although the biz may be able to push that along faster. A crewed test is due in June.
Boeing is still playing catch up with its CST-100 Starliner project. The first non-crewed test flight won't lift off until next March at the earliest, and a crewed flight won't take place until August.
"Following the test flights, NASA will review the performance data and resolve issues as necessary to certify the systems for operational missions," the US space agency said last week.
"Boeing, SpaceX and the Commercial Crew Program are actively working to be ready for the operational missions; however, as with all human spaceflight development, learning from each test and adjusting as necessary to reduce risk to the crew may override planning dates."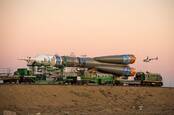 Russian rocket goes BOOM again – this time with a crew on it
READ MORE
NASA is understandably not going to rush humans into space in untested craft. Both SpaceX and Boeing have rockets capable of reaching the orbiting space station, however they do not have the crew capsules ready. The proposed spacecraft have to undergo a battery of extensive tests before humans are allowed in them – though, the payoff is huge, as we saw today.
Thanks to the extensive design and production testing, the two astronauts who blasted off off today – American Tyler "Nick" Hague and Russian Alexey Ovchinin – managed to successfully disengage from the rocket carrying them, and make their way safely back to the surface, albeit with a slightly rockier trajectory than they may have liked.
Crewed capsules also need to be able to fly free of a disintegrating rocket on the launch pad, survive the heat of reentry as air compression heats up the capsule, and ensure that the precious astronauts arrive home unshaken or stirred by their trip.
But wait a second, you may say: doesn't NASA have the Orion crew capsule? It is intended for Mars and Moon missions, yet should be serviceable for ISS deliveries at a pinch.
Sadly, Orion isn't even close to being certified for crew delivery, and the rocket intended to put it into orbit, NASA's Space Launch System, is in a parlous state. Earlier this week NASA's inspector general issued a scathing report [PDF] about the progress in building the SLS, pointing out that the rocket is now running three years late, almost 100 per cent over budget, and won't be ready until 2021 at the earliest.
All of which leaves NASA with zero options for resupplying the ISS with crew and supplies until the Russians work out what went wrong on Thursday. Boffinry bosses in the US and Russia will be crossing their fingers and toes that flights can resume soon. ®