Oh no, Xi didn't! Chinese spymaster cuffed in Belgium, yoinked to US on aerospace snoop rap
Xu can play at this espionage game, Feds allege
US prosecutors have unsealed charges against a collared Chinese national, accusing him of stealing trade secrets from American aerospace companies.
Yanjun Xu, who Uncle Sam says is the deputy director the Chinese Ministry of State Security (MSS), has been charged with one count each of economic espionage and trade secret theft. He was nabbed by the FBI in Belgium back in April, and extradited to the US this week – a first for America and China: a Chinese official hauled to the States on corporate espionage allegations.
According to prosecutors in Ohio on Wednesday, since 2013 Xu has lured eggheads from three aerospace companies in America to China by inviting them to give university presentations in the Middle Kingdom.
Sometimes operating with the help of a coconspirator inside said companies, Xu offered to meet the engineers in China as well as cover their expenses and pay for their time, it is claimed.
When the aero-boffins arrived, they were said to have been paid a stipend – around $3,500 in one case – by Xu, and asked to provide blueprints and schematics for vital aerospace components. The lifted materials were then passed by Xu to the Nanjing University of Aeronautics and Astronautics, it is alleged.
Only one of the companies, GE Aviation, was named by the US Justice Department. The other companies were said to have been involved in the manufacture of both civilian and military aircraft, as well as communications systems and drones.
"Innovation in aviation has been a hallmark of life and industry in the United States since the Wright brothers first designed gliders in Dayton more than a century ago," said US Attorney Benjamin Glassman today.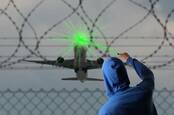 Pentagon in uproar: 'China's lasers' make US pilots shake in Djibouti
READ MORE
"US aerospace companies invest decades of time and billions of dollars in research. This is the American way. In contrast, according to the indictment, a Chinese intelligence officer tried to acquire that same, hard-earned innovation through theft."
According to the Washington Post, one of Xu's alleged coconspirators is Ji Chaoqun, a Chicago man arrested last month. The pair were said to have specifically targeted techies who were naturalized US citizens born in China or Taiwan. Meanwhile, Xu was cuffed by Belgian cops in April, and handed over to the Feds, we're told.
For years, America has accused China of committing wholesale intellectual property theft, furious that so much US tech ends up being ripped off and cloned in Chinese factories. That friction sparked billions of dollars in tariffs, as well as charges that China's government was using its influence over the nation's telcos to enlist them in espionage activities.
China, meanwhile, has retaliated by slapping its own tariffs on US-produced goods. And it appears the pact between President Obama and President Xi on non-hacking is dead: we're hearing that Chinese government snoops, and other miscreants, are stepping up their cyber-assaults and corporate espionage operations against the United States. ®