Verizon and AT&T are slowly bringing the Florida Panhandle, and surrounding areas in the US, back online after Hurricane Michael devastated its mobile and fiber networks.
The category-four storm has killed at least 18 people, leveled neighborhoods, and left more than 350,000 folks without power, since making landfall on Wednesday near Mexico Beach on the Gulf Coast.
Verizon reckons 99 percent of its network in the state of Georgia are now operational, and 98 percent in Florida. Its status page reports the "hardest hit area of Panama City, Panama City Beach, and the surrounding communities still experiencing the most impact."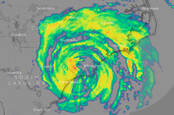 Florence and the Machines: Data centers brace as hurricane smashes into US coast
READ MORE
AT&T is faring better, it seems: in its most recent status update, the carrier said its network is "nearly fully restored in most affected areas," with portable cell sites operational "in numerous locations throughout Florida and Georgia."
The FCC is tracking mobile outages here, and its latest communications status report stated: "Although Hurricane Michael has had a serious impact on communications services in the Florida Panhandle and parts of Georgia some improvements are evident, especially in wireless services where the percentage of cell sites out of service dropped over the last four days from 18.8 percent to 5.2 percent."
As the map below shows, that's still a substantial number of sites out of action...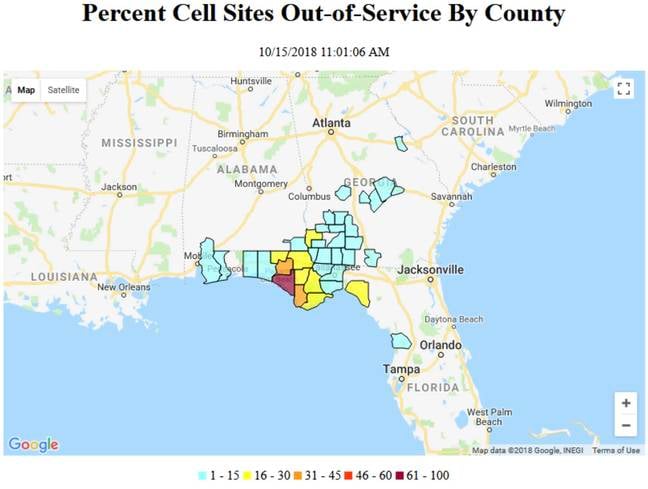 FCC's map of affected cell towers post-storm ... Click to enlarge
Fiber damage, which Verizon called "unprecedented," is slowing down the business of bringing cell towers back online, and hampering the deployment of temporary mobile base stations, particularly in Panama City, Panama City Beach, and the surrounding areas. We're told:
The storm caused unprecedented damage to our fibre, which is essential for our network— including many of our temporary portable assets—to work. Our fibre crews are working around the clock to make repairs, and while they are making good progress, we still have work to do to get the fibre completely repaired. Once that fibre is repaired we expect service to come back on throughout Panama City, Panama City Beach and the surrounding areas.
The best progress, according to FCC, is in southern Georgia, while access remains "heavily restricted" around Mexico Beach.
However bad a week the telcos are having, the US Air Force is having it much worse: its Tyndall base was hit hard, and 17 F-22 Raptors – which cost an estimated US$150m each – were damaged.
At worst, completely replacing the fighters would cost billions, however, The Diplomat reports that US Air Force Secretary Heather Wilson said "damage was less than we feared and preliminary indications are promising." ®