Virgin Media? More like Virgin Meltdown: Brit broadband ISP falls over amid power drama
Status: TITSUP – Total Inability To Support Users' Packets
---
Updated Virgin Media, one of the UK's largest broadband and TV cable providers, is suffering an outage right now. If you can't access the internet or watch the telly, then it's not just you. It's quite a few of you.
It appears the blackout includes business and home connections, and kicked off around 4pm BST today. At the time of writing, it remains down or wobbly. We understand a problem with a power supply is the cause, and the outage is focused mainly in the London and south-east area.
A spokesperson for Virgin Media told us:
We are aware of a power issue impacting our services for customers in some parts of London – this is not a nationwide issue. Engineers are on-site and are working to restore services as quickly as possible. We apologise for any inconvenience caused.
The cockup also appears to have affected the ISP's status page, preventing people from checking out whether or not they're part of the larger outage or just suffering problems exclusive to their individual line. Representatives of Virgin Media, which has roughly five million subscribers nationally, estimated the broken gear should be fixed by 9pm BST.
Naturally, folks are cheesed off – not only is broadband down, and the status page fell over, but also all the customer support lines are jammed with complaints. And on top of that, bills have gone up a few quid, too...
@virginmedia no internet. No emails. 😡😡 lost 3 Clients. You guys just flipping get lost

— Farhan Baig (@EPC4Homes) October 15, 2018
@virginmedia my internet service has gone down, plus landline & tv is intermittent. The Apo is not working either! You charge me £55 a month which will be upped £3! I'm Disabled & can't get out. I'm cut off from important things I need! #virginmedia

— Janette Irvine (@jannyp70) October 15, 2018
@virginmedia looks like it will be a second day without tv and Internet. Absolute joke. Spoke to customer services who aware of a fault in area 22, York. It shouldn't take 2 days to fix! What am I paying my bill for!!! Sort it out...

— Chris Keay (@ChrisKeay) October 15, 2018
The Down Detector website shows Brits complaining of dodgy Virgin Media connections and blank TV screens across the country, although the ISP's spokespeople stressed it was not a nationwide issue. We understand Down Detector watches tweets and uses an algorithm to guesstimate where issues crop up, so your mileage may vary.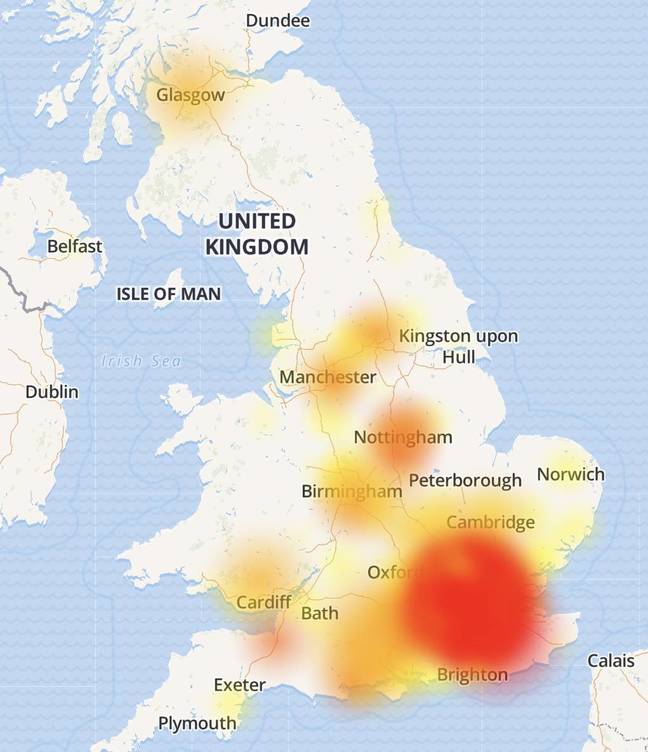 Ouch-tage ... Down Detector's map of complaints about Virgin Media today
We'll update this piece if we have any more information – and please let us know if you have more details on this mysterious power issue. ®
Updated to add at 0000 UTC October 16
Roughly eight hours on, and it appears Virgin Media is still having issues with its power, and its network is still down. JISC, which manages the Janet Network used by universities for internet connectivity in the UK, is also reporting an outage related to power.
Final update
Virgin Media claims to have fixed the power-related outage around 8am on Tuesday. That doesn't mean outages and individual cases of downtime elsewhere in the country aren't happening, of course...