Leaked memo: No internet until you clean your bathroom, Ecuador told Julian Assange
And we'll take your cat if you don't tidy up after it
Like a weary mother laying down the law, London's Ecuadorian embassy has slapped WikiLeaks founder Julian Assange with a nine-page memo of house rules to follow if he wants to see the internet again under their roof.
On Sunday WikiLeaks said in a statement that Ecuador would "remove the isolation regime imposed on [Assange]", though if a leaked doc published by Ecuadorian website Codigo Vidrio (PDF, in Spanish) is legitimate, that would appear to be subject to a long list of conditions.
According to the lengthy memo – dated 11 October and with an empty space where Jules' signature should be – it is "intended to facilitate, in an orderly and secure way, [Assange's] the reception of visit[or]s, communication outside of the embassy; and the periodic medical care which Ecuador requires [him] to undergo and/or the Asylee require[s]".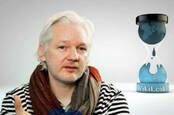 'Incommunicado' Assange anoints new WikiLeaks editor in chief
READ MORE
The section headed "Communications" stated that Assange would be liable for any additional Wi-Fi costs and that he may only use his own devices – barring exceptional cases and only with written permission from the Head of the Diplomatic Mission. Assange must also disclose the brand, model, serial number and telephone number for devices he has in the embassy.
He is prohibited from "carrying out activities that could be considered political and interference in the internal affairs of other states, or that may cause harm to the good relations of Ecuador with any other state".
This same request led to strained relations between lodger and landlord back in March this year, when the embassy pulled the plug on Jules' Wi-Fi for putting the South American nation's "good relations with the United Kingdom and the rest of states in the European Union at risk".
As well as providing strict rules for visitors and constant warnings that failure to comply might result in Assange being given the boot, towards the end of the memo is a passage suggesting Jules hasn't been the most gracious of guests.
In order to safeguard the sanitary conditions of the Embassy facilities, Mr Julian Assange and his visitors will conserve the cleanliness and hygiene of the bathroom and other spaces that they use inside the embassy. For the same reasons, Mr Julian Assange will be responsible for the well-being, food, cleanliness and proper care of your pet. If the pet is not given due attention, the Head of Mission will ask Mr Assange to deliver the pet to another person or an animal shelter outside the Diplomatic Mission.
Of course the internet melts down at any mention of a cat, and Julian's faithful reacted accordingly.
The cat 🐈!?! Seriously?? 🙀 the cat??????

Now I'm mad. This is an affront to all cats everywhere. We must revolt!! 😾#SaveJuliansCat #FreeAssange #Unity4J #Cats4Assange #EmbassyCat pic.twitter.com/dJZ8XQnVdu

— BlackCatzMatter (@KissThePaw) October 16, 2018
Equador is applying the psychological pressure to a torturous degree. #Assange must indeed have an iron will to stay positive under these conditions.

— kontiki (@Obksure77) October 15, 2018
*This* is the agreement @davidakaye & @RefugeesChief negotiated with @Lenin?!! #Ecuador not only gets to violate @JulianAssange's human rights, but everyone who visits him lose their civil rights? It's worse than nothing. AND they threaten @EmbassyCat?

— Stephanie Marsilia (@smarsilia) October 15, 2018
He is not a child nor a criminal! He should have rights like the rest of us without stipulation. A once outstretched hand has become a prison and for what he has done he deserves to be not only heard but treated as the man he is.

— Foxfire (@welltraveledfox) October 15, 2018
Assange has lived under asylum in the embassy since 2012, when he absconded after his challenge of Swedish extradition proceedings fell through. Sweden had an international warrant for his arrest on allegations of sexual assault he claimed were invented to have him sent onwards to the US for publishing secret documents. The UK has said it will arrest Assange for skipping bail if he leaves the embassy, despite efforts to have the warrant quashed since the assault allegations expired. ®