This article is more than 1 year old
Huawei's Watch GT snubs Google for homegrown OS
Behold, a new Chinese platform?
Google's decision to shove Java everywhere it can may be as catastrophic as Microsoft's "Windows everywhere" from the 1990s.
Huawei unveiled a smartwatch today. This isn't really news, but Huawei making a smartwatch based on its own open-source embedded OS very much is.
The new Huawei Watch GT uses the open-source LiteOS with a tiny 10KB microkernel announced in May 2015. While Google's Android-based WearOS, for smartwatches and other wearables, runs apps written in Java, LiteOS is much more lightweight: it runs JavaScript, and executes native code right off the metal.
"LiteOS can be simultaneously activated (across all devices) in about 700ms, it consumes little power and only needs micro amperage," said president of Huawei's Honor brand George Zhou in December of that year.
LiteOS had made its way into Huawei's own IoT kit, but this is the first time it has appeared in such a sophisticated consumer product.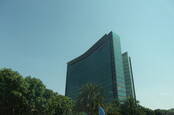 Huawei announces tiny 10 KB IoT kernel
READ MORE
Huawei's calculation is that the loss of an app ecosystem is worth the competitive advantage it will gain from dumping Google's Java-cosy OS, Android, for something with much longer battery life that's much more responsive. Although WearOS is a cut-down Android, it isn't cut down by much, and still has many of the disadvantages.
The dual-chip GT has a two-week battery life on average. A very low-power chip allows it to receive messages and calls for 30 days. This chip, Huawei said, uses around a sixth of the power draw of a conventional application processor. If you wish to use high-energy applications such as GPS and continuous activity tracking, the high-power chip kicks in and the battery life is shortened. It automatically turns this on and off as needed.
It's a monster in real life, in two styles: sports and classic. Both look like a normal watch with two conventional crowns and a ceramic bezel. The screen is of "diamond-like carbon" – something we'll investigate when we can. But there's also a six-LED sensor underneath providing, among other things, continuous heart monitoring. It's aimed at "urban explorers".
The OS looks like a straight rip of Google's WearOS: quick settings flick down from the top, and the app list is a circular dial, identical to Google's OS.
Apps just haven't happened on smartwatches – the category is only enjoying a modest rivalry as fitness specialists like Garmin and Fitbit have focused on the market. To compete in this category, Huawei clearly decided it could dispense with Google's wares.
But doesn't this mean it's far short of being an open, developer-friendly platform? Watch this space. "We're looking at how we extend that with other activity-tracking apps," said Huawei. ®