This article is more than 1 year old
Tech hub blames tech: San Francisco fingers Uber, Lyft rides for its growing traffic headache
Nothing to do with lousy infrastructure, poor public transport, etc etc etc
As any San Francisco Bay Area resident knows traffic is bad and getting worse, but the city's officials think they have found the culprit: ride-hailing companies.
In a report [PDF] issued on Tuesday the San Francisco County Transportation Authority acknowledged that a lot of new people have moved into the area, drawn by tech jobs and the industries that serve them, but that this only accounted for around 50 per cent of the traffic increases in the American city between 2010 and 2016.
The rest of the traffic growth has been placed at the doors of what the report calls transportation network companies (TNCs). Uber started operating in San Francisco in 2011 and Lyft a year later, and those firms and their ilk are both blocking streets and slowing down traffic speeds, the report claims. There are now tens of thousands of TNC drivers in a city that used to have to rely on a mere 2,000 or so taxis that occasionally prowled the streets.
"During most of the day, approximately 40 per cent to 50 per cent of the increase in vehicle hours of delay is attributable to TNCs, but in the evening, almost 70 per cent of the increase in vehicle delay is due to TNCs," it states. "Similarly, during most of the day approximately 40 per cent on the increase in vehicle miles traveled is due to TNCs, but in the evening TNCs account over 60 per cent of increased VMT."
The effect of TNCs does vary depending on where you are. The city's Financial District, tech haven in SOMA, and the hipster heaven that is the Mission are all hardest hit. But the knock-on effects have slowed traffic speeds by a quarter and the authors suggest the problem is about to get worse.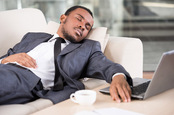 Wow, braking news: Overworked, tired ride-sharing drivers declared a public health risk
READ MORE
The report acknowledges that the city's population has increased by 70,000, and its authors say they have factored that in. However, the effects of the area's crumbling infrastructure, increasingly packed public transport and and overpriced housing making commuting more likely don't seem to be considerations here.
Unsurprisingly, the TNCs themselves aren't that keen on the report's conclusions. In a blog post Lyft pointed out that less than one per cent of the traffic on the San Mateo, Golden Gate, and Bay Bridges leading into the city is down to its vehicles, and claims that the bulk of its drivers operate outside of peak commuting time.
Uber also took umbrage at the report, highlighting its Jump bike-for-hire scheme, which it said would reduce congestion. It also said it was actively working with San Francisco City Hall to cut the traffic in the cool, grey city of love.
"While we appreciate efforts to better understand the causes of congestion, this study fails to consider critical factors like the spike in tourism or the growth of freight deliveries, both of which have exploded since the study's baseline date of 2010," an Uber spokesperson told The Register. ®